Burqa ban in Switzerland reopens debate about security and religion
A Muslim activist is first citizen fined. The law was approved in the Ticino canton after a referendum vote in 2013.
Swissinfo.ch · TICINO · 12 JULY 2016 · 15:16 CET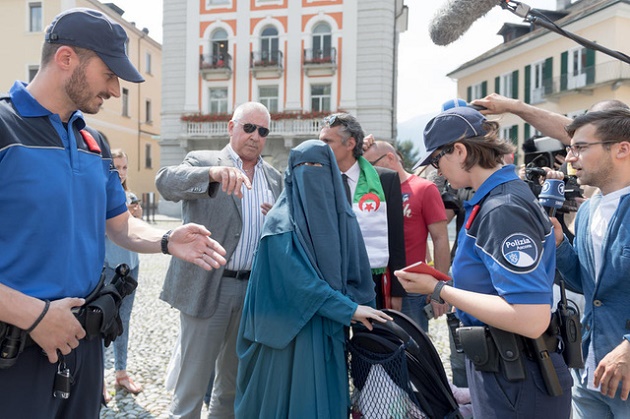 Nora Illi was the first woman to be fined in Locarno fro wearing a burka. The media covered the moment she was banned. / Swissinfo
The Swiss autonomous canton of Ticino has started applying a new law – approved in a referendum - which bans face-covering headgear.
The regulation came into force on July 1.
A Swiss woman, who converted to Islam, was fined in Locarno (Ticino's main city) a few hours after the implementation of the law. She is a member of the Islamic Central Council Switzerland and lives in another canton (Zurich).
She purposely defied the law wearing a full length Burka before being stopped by police officers, according to Swiss Info news agency. Several media were covering the event.
Fines can be between 100 and 10,000 Swiss Francs (about 9,200 Euro).
APPROVED IN REFERENDUM
The people of Ticino voted in favour of the headgear ban in 2013.
65.4% of voters approved the people's initiative – creating the first law of its kind in Switzerland.
Members of the local government who organised the ban were also collecting signatures for an initiative calling for a nationwide equivalent.
The debate around the headgear of Muslim women opens again a long debate about religious liberty, security and gender equality.
Published in: Evangelical Focus - cities - Burqa ban in Switzerland reopens debate about security and religion