'Rethink': Talking about faith, sexuality and science at university
Current issues, international speakers and conversations about the figure of Jesus, in a week of talks and activities organized by Christian university students in Barcelona.
Protestante Digital · BARCELONA · 16 NOVEMBER 2018 · 17:25 CET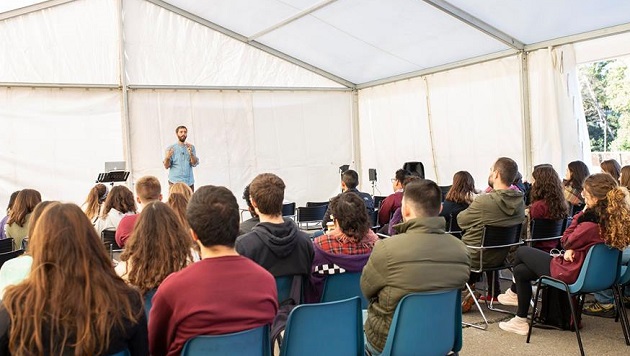 One of the talks. / Fundación RZ
The university Week "Rethink" took place from November 5– 8 at the Autonomous University of Barcelona (UAB).
The students of GBU (IFES) Barcelona promoted this initiative, which aimed to encourage the entire community of the UAB to reflect and rethink topics such as suffering, sexuality, pornography and its relation to human trafficking, loneliness in the hyperconnectivity era, and the relationship between science and faith, among others.
Through the activities, people with different worldviews were challenged to analyze their own ways of approaching the world. GBU presented the biblical persprective of these issues.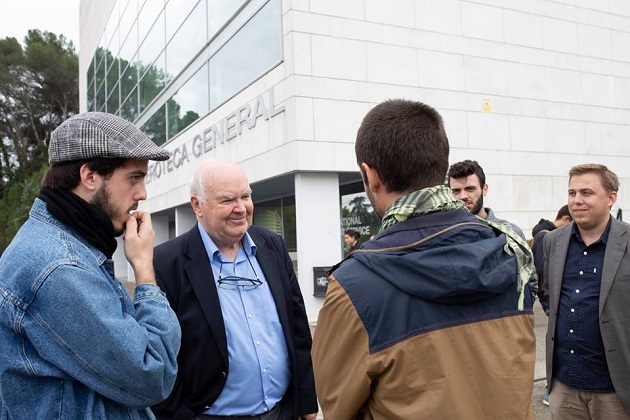 INTERNATIONAL SPEAKERS
The association invited well- known international speakers, such as John Lennox, professor emeritus of mathematics at Oxford, who specializes in topics related to science and faith.
He opened the conference with the talk "Has the science shown that God is unnecessary?", and was followed by Vaughan Roberts, theologian, writer and Protestant minister, addressing the current debates on sexuality.
The tent that the GBU rented for the conference was filled to 80 people in this first conference.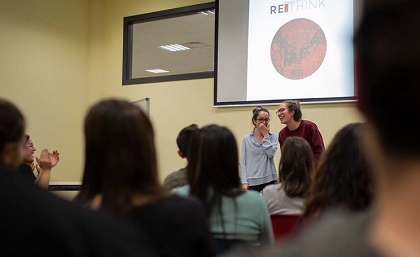 ALL DAY PROGRAM
During the week, there were two talks on different topics at noon, and around seven o'clock in the afternoon, there was a talk about another current issue.
On Monday, for example, the campus was encouraged to learn Scottish dance (ceilidh) and then to reflect with the talk "Why does God limit my freedom? Rethinking the rules", by Andy Wickham, director of the Ravi Zacharias foundation in Spain.
MEANINGFUL CONVERSATIONS
Meanwhile, in the mornings, the students, equipped with a table, a blackboard, some books and free coffee, could interact with their classmates in various locations, discussing many different kind of topics.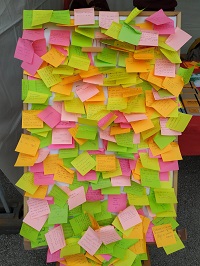 The campus has become the best place to talk and debate with other students, about relevant issues related to faith.
In recent years, GBU students have seen the interest of the university community in Barcelona to share and listen to different points of view.
When GBU students wrote the "question of the day" on the blackboard, many conversations came out, and they encouraged other students to know what Jesus says about it.
FAITH, AN INVENTION FOR THE WEAK?
The last talk took place on Wednesday night. Around 70 people listened to the talk "Faith, an invention to give hope to the weak?", by Andy Wickham.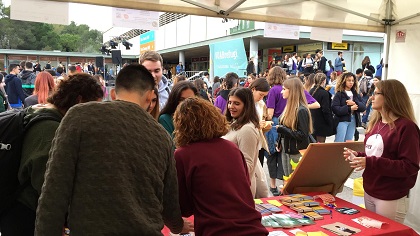 The organizers were happy at the end of the University Week. The tent installed in the center of the university campus helped to impact in the university.
At the end of the "Rethink" week, about 40 people were interested in continuing to talk about these issues, and several will begin to investigate the historical evidence of the life of Jesus in his biographies, the gospels.
Published in: Evangelical Focus - cities - 'Rethink': Talking about faith, sexuality and science at university