Kurt Cobain, a music legend 50 years later
February 20 would have marked the 50th birthday of the "Grunge" rock star. "Without roots in the past, or direction for the future, Cobain forfeited his history", cultural critic Jose de Segovia explains.
20 FEBRUARY 2017 · 17:55 CET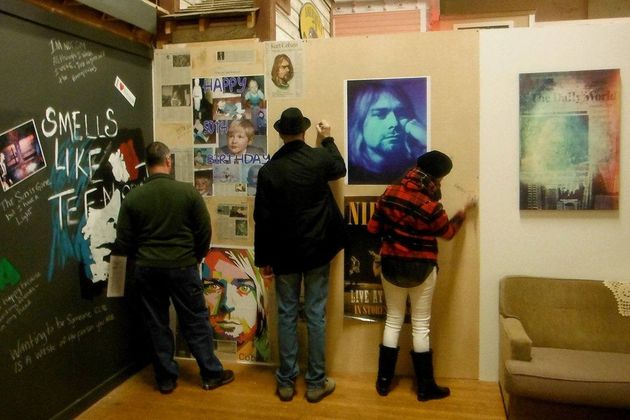 Visitors to the Aberdeen Museum of History write a personal greeting for what would have been Cobain's 50th birthday.
Kurt Cobain (1967-1994) became a legend the day on which he pulled a shotgun to his head. His corps, found by an electrician, signed the epitaph of the "grunge" generation – who saw him as their "John Lennon", according to Rolling Stone magazine–.
50 ANNIVERSARY
He would turn 50 Monday, Feb. 20, and to celebrate the birth of the local man who became the voice of Generation X while fronting his band Nirvana, the Aberdeen Museum of History invited the public to view a display featuring Cobain, local artwork in his honor, and a huge plywood birthday card for all to sign.
His daughter Frances Bean Cobain, has posted a moving tribute on Instagram.
"MONTAGE OF HECK"
In his article "Kurt Cobain: the weight of life", journalist José de Segovia, analyzed the mythical figure of the singer, after the launching of "Montage of Heck", a documentary, which reveals the tragedy of his private life, showing his most intimate and solitary side:
"Nirvana was the perfect soundtrack for the final apocalypse of a millennium that had seen the breakdown of a generation whose children went from one parent to another, without the security of being accepted by either of them. With the burden of this feeling of pain and abandonment, the guitar riff in "Smells Like Teen Spirit" provoked an emotional catharsis, which turned Cobain into the mouthpiece of a whole generation.
The so-called Generation X, instead of giving a literary expression to their alienation, found in this era of visual bombardment a musical explanation which served as its collective confession of faith in its quest for exorcism. It provided consolation for childhoods broken by the destruction of the family."
This is what Jose de Segovia wrote in his article about Cobain.
KUTR COBAIN, THE WEIGHT OF LIFE
"Montage of Heck" looks at his difficult childhood, his continuous stomach-aches and his tempestuous love story with Courtney Love. His fragile personality and depressive character ended up making life unbearable for him.
Nirvana's story ended up being incredibly short. Despite being so short, it provided a striking illustration of the "vanity of vanities", described in Ecclesiastes. Cobain, like the Preacher, discovered that in this life all is vanity.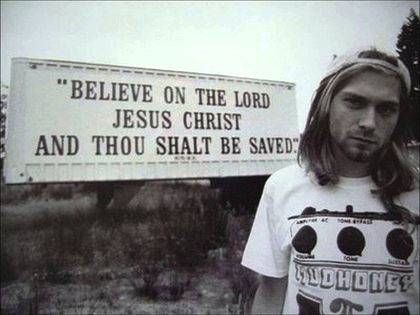 BROKEN CHILDHOOD
Cobain seems to have been a normal child until his parents' separation. He was born in a sleepy town in Washington State, but he became known when living in Seattle, the 1990s' capital of pop. It was there that he died. He already suffered from stomach problems, but the breakup of his family "just destroyed his life", according to his mother.
In his suicide note, Cobain wrote: "since the age of seven, I've become hateful towards all humans in general". He thus let himself slide down a slippery slope which led him to a "world of heroin abuse, acute paranoia, wilful self-destruction, shoulder shrugging nihilism, and child-like love", as Phil Sutcliffe described him in an interview with Q magazine, in an article entitled "Kind of Pain", published six months before his death.
His diaries, which were published eight years after his death, speak of his struggle with the addiction. In a note written on the stationery of a hotel in Madrid, only a few weeks before his suicide, he said that at first he laughed at the idea that someone could become addicted after their first try: "I now believe this to be very true."
SAD AND DESPAIRING LIFE
His life is a sad and despairing story which was captured in that photograph by Ian Tilton for the now disappeared British music newspaper Sounds.
In it we see him sitting on the floor, with one hand on his temple with an expression of pain. This image was chosen by Q Magazine as one of the hundred best photographs of the history of rock. Tilton says that he took it during a tour in Seattle, before they became famous: "He was aware I was there, but it didn't bother him that I took the photograph. The band also accepted him crying, so it was probably something that he had done before."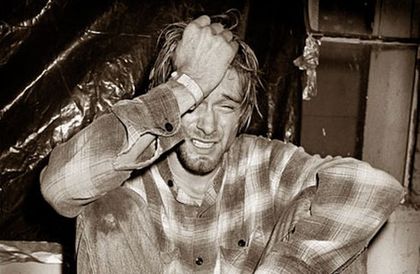 A SEA OF CONTRADICTIONS
In his biography "Heavier Than Heaven" Charles Cross says that the reasons for his death could have been: (1) the despair of his addiction; (2) his constant stomach pains; (3) his emotional suffering; and (4) the hallucinogenic effects of the combination of drugs that he was taking.
But it is also very interesting that he adds that in the end it was a spiritual issue. In the introduction to his book, he also talks about his "questions concerning spirituality."
Fame of course did nothing for his spiritual well-being. It moreover exacerbated his problems. It gave him money for drugs and accentuated his contradictions.
In his video, "Live Tonight Sold Out", Cobain made it clear that he did not like huge concerts. Success does not seem to be was he was looking for, since his group played more to the underground culture. His vocation was clearly marginal, but they became the most famous band on the planet.
Cobain's fragility, however, made it difficult to survive that meteoric rise. His song "Very Ape", is a clear confession of how he feels "buried" in his lies and contradictions. Another of his biographers, Christopher Sandford, is more cynical about his aversion to fame. In his opinion: "His whole approach to performance was a scream for attention."
"WHAT COBAIN NEVER KNEW WAS CONTENTMENT"
What is clear to him is that "What Cobain never knew was contentment". Which takes us back again to Ecclesiastes. Being famous isn't the solution to our problems: "No one remembers the former generations, and even those yet to come will not be remembered by those who follow them." (Ecc. 1:11). The music chart number ones are prime evidence of the fate of Andy Warhol's "fifteen minutes of fame".
Without roots in the past, or direction for the future, Cobain forfeited his history. From the line in the song "Come as your are", "I don't have a gun" (the first single of the album Nevermind) to the song which opens his next album "In Utero", "I hate myself and I want to die", everything seems to point to a death foretold.
He is making a declaration, not a prophecy, in the picture of him with a gun in his mouth, or in the home video that he shot age 15, known as "Kurt's Bloody Suicide". His pain thus becomes the icon of a whole generation, which sympathises with his despair, weakness, confusion and lack of purpose.
Published in: Evangelical Focus - culture - Kurt Cobain, a music legend 50 years later