Kingdom of Judah seal unearthed in Jerusalem
The 2,600-year-old seal bears the inscription "(belonging) to Nathan-Melech", a name that appears in II Kings 23:11.
Protestante Digital · JERUSALEM · 08 APRIL 2019 · 18:46 CET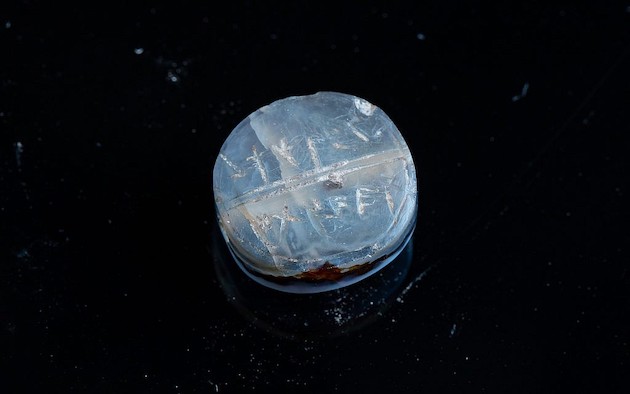 The little seal discovered in Jerusalem. / Eliyahu Yanai, City of David
A 2,600-year-old seal from the Kingdom of Judah bearing the inscription "(belonging) to Nathan-Melech, Servant of the King" was recently discovered in the City of David National Park in Jerusalem.
That name appears once in the Bible, in II Kings 23:11, where he is described as an official in the court of King Josiah.
"Although it is not possible to determine with complete certainty that the Nathan-Melech who is mentioned in the Bible was in fact the owner of the stamp, it is impossible to ignore some of the details that link them together", said Dr. Anat Mendel-Geberovich of the Hebrew University of Jerusalem and the Center for the Study of Ancient Jerusalem.
The seal was discovered inside a public building that was destroyed during the destruction of the First Temple.
"IT PROVIDES A LOT OF INFORMATION"
The dig was conducted by archaeologists from the Israel Antiquities Authority (IAA) and Tel Aviv University (TAU), during the archaeological excavation of the Givati parking lot in the City of David National Park in Jerusalem.
"The discovery of a public building such as this, on the western slope of the City of David, provides a lot of information about the city's structure during this period and the size of its administrative area", they explained.
According to them,"the destruction of this building in the fire, apparently during the Babylonian conquest of the city in 586 BCE, strengthens our understanding of the intensity of the destruction in the city".
A SECOND ARTIFACT DISCOVERED
A stamp-seal, made of bluish agate stone, engraved with the name "(belonging) to Ikar son of Matanyahu", was also unearthed during the dig.
"These artifacts join those stamps bearing names written in ancient Hebrew script, which were discovered in the various excavations that have been conducted in the City of David until today. These artifacts attest to the highly developed system of administration in the Kingdom of Judah", archaeologists pointed out.
"THIS PROVES THAT JERUSALEM IS NOT JUST A MATTER OF FAITH, BUT ALSO OF FACT"
Doron Spielman, vice president of the City of David Foundation, stressed that "the ongoing archaeological excavations at the City of David continue to prove that ancient Jerusalem is no longer just a matter of faith, but also a matter of fact".
"It's really fascinating to see how archaeologists have discovered more than twelve layers of Jerusalem's history in what used to be a parking lot until a few years ago", he addded.
The inscriptions are "not just another discovery", said archaeologist Dr. Yiftah Shalev of IAA. Rather, they "paint a much larger picture of the era in Jerusalem", he concluded.
Published in: Evangelical Focus - culture - Kingdom of Judah seal unearthed in Jerusalem