'I See You': A handmade petition to support persecuted Christian women
Open Doors UK displayed 16,000 squares of fabric at Westminster Abbey, "to amplify the voices of persecuted Christian women and to have a lasting impact on UK government policy".
Open Doors, Livenet.ch · LONDON · 28 NOVEMBER 2019 · 18:30 CET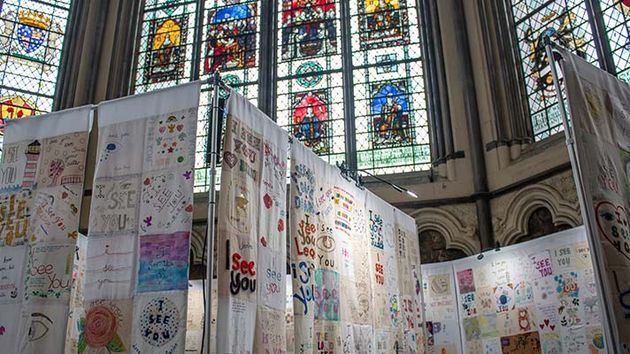 16,000 squares of fabric were held at Westminster Abbey ti support persecuted Christian women. / Open Doors UK.
The exhibition of the Handmade Petition: I See You, organised by Open Doors UK, has been held in Chapter House, Westminster Abbey, London from 17-24 November.
The installation was created "to amplify the voices of persecuted Christian women and to demonstrate to the UK Government and parliamentarians the vital need for policy change", organisers said.
Throughout this year, Open Doors UK asked Britons to sign the handmade petition, saying "I see you" to women who are persecuted for both their faith and their gender.
"AN OPPORTUNITY TO BE HEARD"
More than 16,000 people wrote, painted, drew or embroidered their names in this unique petition, along with over 250 Christian women from across Asia, Africa, the Middle East and Latin America who have been persecuted for both their faith and gender.
Their works have been strung at Westminster Abbey, "to give people a visual opportunity to hear these women's stories and understand the characteristics of gender-specific persecution", Open Door UK pointed out.
Additionally, the installation displayed portraits and self-portraits of Nigerian women who have experienced persecution for both their faith and gender, and have been victim to sexual violence by Boko Haram or Fulani militants. Each portrait was accompanied by the women's story.
"WE DO SEE YOU"
"This petition is about our saying to these women: we do see you, you are seen, we hear your story, we want justice for you, we are praying for you", said the director of Open Doors UK and Ireland, Henrietta Blyth.
According to Blyth, "the number of handmade pieces is impressive. The fact that each 'signature' was made in person, hand-painted, glued or embroidered, shows how passionately people are committed to the issue of violence against women who are brave enough to stand by their Christian faith".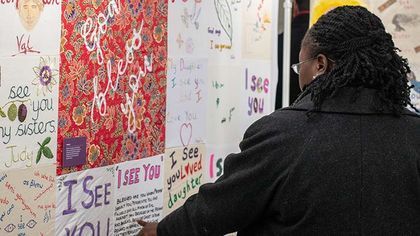 "PRAYING IS VITAL"
Open Doors stressed that "it is really vital that we continue to pray for our vulnerable sisters around the world, so that they would know God's presence and peace".
"The petition is also designed to have a lasting impact on UK government policy. Faith should be recognised as a specific vulnerability in relation to persecution, in the way that factors such as age and gender are", they explained.
At the opening reception, the theologian and philosopher Dr Elaine Storkey pointed out that "when you don't include the whole issue of faith, then it just becomes hidden. We can't deal with it properly if we aren't looking at the real thing that's the cause of the violence".
"Even in those countries where women are being violated sexually, […] you'll find that Christians are being violated even more, over and over again, in many different forms", she added.
"A CROWD OF WITNESSES"
A partner of Open Doors from Northern Nigeria, who remained anonymous, also spoke at the opening about the problems in the country, where Christian women are often used by Boko Haram and the Fulani terrorists as sex objects, as slaves or as machines for the production of children.
"They have no voice to defend themselves or draw attention to the malady. This handmade petition allows every woman to be sure that everyone sees her. It is like a crowd of witnesses".
The handmade petition is part of Open Doors' ongoing See Change campaign in support of persecuted Christian women.
Published in: Evangelical Focus - culture - 'I See You': A handmade petition to support persecuted Christian women