Romanian referendum fails due to low turnout
Just 20.96% of registered voters cast ballots, less than the 30% needed for the result to be valid.
BUCAREST · 08 OCTOBER 2018 · 18:10 CET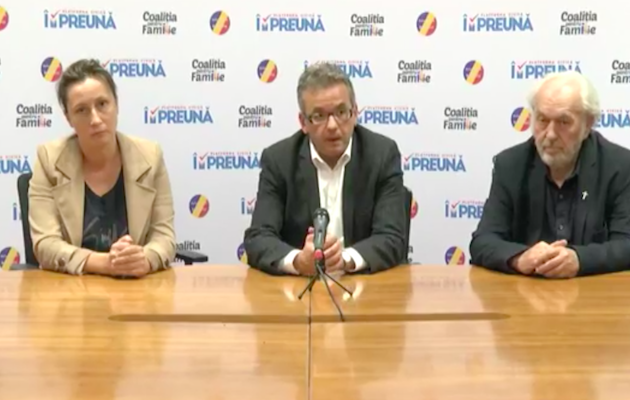 Colation for the family press release. / Coalition for the family faceook.
Low turnout has voided the referendum about the article 48 of the Constitution of Romania on marriage.
After two days of voting, the Central Election Bureau reported that just 20.96% of registered voters cast ballots on the proposed amendment, short of the 30% threshold needed for the result to be valid.
Although the country does not recognize gay marriage or civil unions, the wording of the constitution in defining marriage will remain that a family "is founded on the freely consented marriage of the spouses".
COALITION FOR THE FAMILY
The referendum was promoted by the civil group Colation for the Family, which managed to gather three million people who signed the Citizens' Initiative, six times more than the legal minimum to present a citizen initiative.
Afther the results, the committee of the Citizen Initiative for the revision of Article 48 has announced its dissolution in social media.
"We thank all the supporters of the initiative, all the citizens who voted for the referendum. We also express our deep gratitude for the sacrifice of all those who have supported and affirmed the will of millions of Romanians. God save Romania!", they said.
The Coalition for Family's representatives said on Sunday that their efforts and those of the Church have been sabotaged by the political parties, which haven't really engaged in bringing people to the polls, despite their leaders' statements.
REACTIONS TO THE CAMPAIGN
The European Commission has been against the vote since its announcement. In fact, they sai sthey were going to go to the Court of Justice of the European Union if they "consider it necessary".
"Romanians rejected being divided and hating each other, it is a victory for Romanian democracy, and moreover, Romanians rejected the involvement of the Orthodox Church in the state's secular affairs", Vlad Viski of LGBT rights group MozaiQ, told Reuters.
The initiative had the support of a large part of the political representation in the Parliament and the Senate.
Codrin Stefanescu, the deputy Secretary General of the ruling Social Democratic Party (PSD), said on Sunday evening, after the first results were announced, that this result is a "failure of the Romanians and of Romania", and accused the opposition parties and the President of boycott.
DEFENDING CHRISTIAN VALUES
In a video promoting the "yes" vote before the referendum Emmanuel Tundrea, a lecturer of the Emanuel University, wondered "What is to be done when the innocence and the future of our children are the price paid for the freedoms and rights of adults? Is this right?".
"The sexual revolution, without doubt, uses hard power. Just dare to publicly affirm something pro-family or with pro Christian values and you will see the violent reactions you get", he warned.
Published in: Evangelical Focus - europe - Romanian referendum fails due to low turnout