At least 3 people dead in Strasbourg Christmas market shooting
Witnesses said the gunman yelled "Allahu Akbar" (God is greatest, in Arabic). The suspect was on the "Fiche S" list of potential security threats.
Agencies, Euronews · STRASBOURG · 12 DECEMBER 2018 · 13:30 CET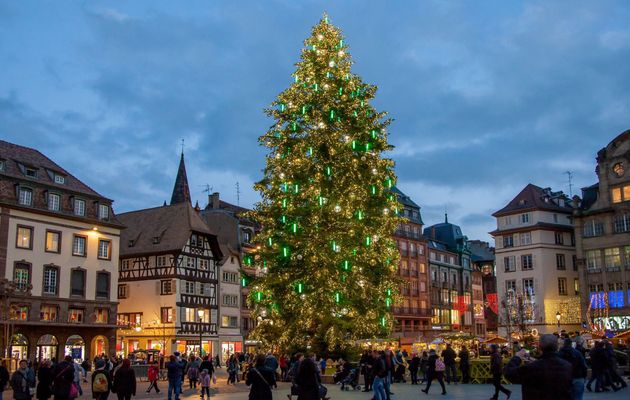 Strasbourg Christmas market, archive image. / Strasbourg Tourisme (CC).
A gunman shot three people dead and injured 13 others, eight in a critical condition, in Strasbourg, France, close to a popular Christmas market near one of the central squares, Place Kléber.
Witnesses said the gunman yelled "Allahu Akbar" (God is greatest, in Arabic).
The attack took place around 7:50 pm (1850 GMT) on Tuesday, when a lone man opened fire several times, "sowing terror at three points in the city", Interior Minister Christophe Castaner said in a statement.
Police asked residents in the centre of Strasbourg to stay at home, bars and restaurants were ordered to close and not let customers leave. Hours after the shootings, thousands of people remained unable to leave city centre. The BBC reported the order was lifted in the early hours of Wednesday.
The mayor of Strasbourg, Roland Ries, said the Christmas market will be closed on Wednesday and flags lowered to half-mast at the local town hall.
"Soldiers of the Sentinelle force used their weapons to try to intercept the assailant, and between 8:20 pm and 9:00 pm he twice confronted our security forces with systematic exchanges of fire", he added.
SECURITY ALERT AT THE HIGHEST LEVEL
According to France's BFM TV, the gunman was able to take a taxi drive hostage, who drove him to the vicinity of the police station in Neudorf, the area where he is understood to live, on the border between Germany and France.
Police reported the attacker was shot and wounded by patrolling soldiers before he fled the scene.
"The government has raised its security threat to the highest level and is bolstering border controls. We will also reinforce security at all Christmas markets to prevent copycat attacks", Castaner told a late-night news conference.
350 OFFICIALS MOBILISED
On the ground, more than 350 people have been mobilised, including 100 police personnel supported by two helicopters, officers from elite units, and also soldiers of Operation Sentinelle, which protect sensitive places which could be terrorism targets.
Deputy interior minister Laurent Nuñez says it cannot "rule out" that the suspected terrorist has fled to neighbouring Germany.
SUSPECT ALREADY KNOWN BY THE POLICE
The suspect, quickly identified as a 29-year-old man born in Strasbourg, was well known to the authorities and had been convicted in France and Germany and served his sentences.
Nuñez confirmed that he had been reported by the General Directorate for Internal Security (DGSI) intelligence agency during one period in prison, where he was noted for violence and religious proselytism.
He was also on the "Fiche S" list of potential security threats. French media reported that gendarmes had attempted to arrest him for a separate crime at his home earlier on Tuesday, but found no trace of him..
While his precise motives remain to be established, the anti-terrorist prosecutor has found sufficient clues to open an investigation for "assassinations and attempted assassinations in connection with a terrorist enterprise".
TAJANI: "WE CONTINUE TO WORK AGAINST TERRORIST VIOLENCE"
The European Parliament, which is nearby, was placed on lockdown too. The Parliament's President, Antonio Tajani, tweeted to say it would "not be intimidated by terrorist or criminal attacks".
I express all my sorrow for the victims of the Strasbourg attacks. This Parliament will not be intimidated by terrorist or criminal attacks. Let us move on. We will continue to work and react strengthened by freedom and democracy against terrorist violence.

— Antonio Tajani (@EP_President) 11 de desembre de 2018
Jean-Claude Juncker, President of the European Commission, said: "Our thoughts are with the victims of the Strasbourg shooting which I condemn with great firmness. Strasbourg is par excellence a town that symbolises peace and European democracy".
French President Emmanuel Macron, who had attended a crisis meeting with cabinet officials in Paris, later tweeted that the "solidarity of the entire nation" was with Strasbourg, the victims and their families.
Published in: Evangelical Focus - europe - At least 3 people dead in Strasbourg Christmas market shooting