Social Democrat Milanovic wins Croatian presidency
He beats conservative incumbent President Grabar-Kitavoric. The 1990s war was still a relevant topic during the electoral campaign.
Euronews · ZAGREB · 07 JANUARY 2020 · 12:36 CET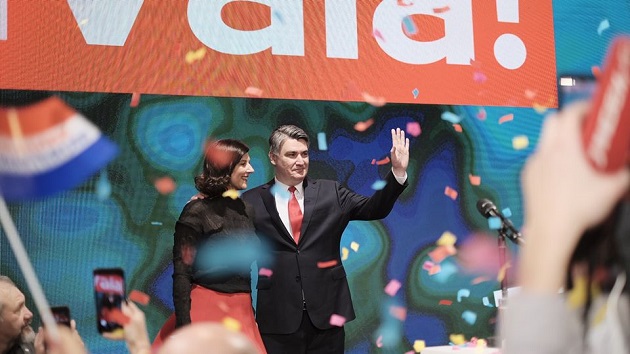 Winner of the Presidential election, Zoran Milanovic, greets supporters. / Facebook Zoran Milanovic
Zoran Milanovic, a former Prime Minister of Croatia, won the second round of the Presidential election on Sunday.
The Social Democrat got 53% of the vote, beating the Conservative candidate and incumbent President Kolinda Grabar-Kitarovic, who got 47%.
The result is a blow for the Croatian government, led by the conservative Democratic Union, and comes just as the country starts to hold the rotating presidency of the European Union (January-July 2019).
Croatia is the newest EU member, joining the bloc in 2013.
Milanovic is a former Prime Minister of Croatia and a diplomat. He had previously worked in Brussels for the Croatian mission to the NATO and the EU, and has a master's degree in European Union law.
The President of Croatia has less power than the Prime Minister, but is the head of the army and represents the country on an international level.
During the campaign, the 1990s war remains a politically relevant topic in Croatia. Meanwhile, the economy is performing better than most other Southeastern European countries.
Croatia has a population of 4.2 million. Most citizens identify as Roman Catholic, and less than 1% of identifies as evangelical Christian.
Published in: Evangelical Focus - europe - Social Democrat Milanovic wins Croatian presidency