Half a million 'little Luthers' sold
It's the biggest success in Playmobil's history. Orders come from across the world, they sold 34,000 in the first 3 days.
Protestante Digital · GERMANY · 15 NOVEMBER 2016 · 18:07 CET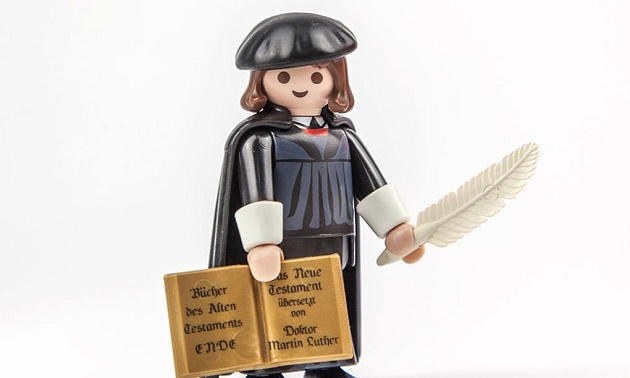 The Luther Playmobil. / Playmobil
Almost 500 years ago, Martin Luther started the Protestant Reformation in Germany. However, after all those years, the theologian has not gone out of style. A new Martin Luther Playmobil is already the the most sold figure in the history of the German company.
Playmobil launched this toy on February 6, 2015. A smiling Luther wearing a cloak of the time, and holding a pen and a Bible written in German. It originally was launched as a tourist souvenir to commemorate the 500 years of Protestant Reformation (October 31, 2017).
The accessories of the toy are important in this figure, since Luther focused his life in his "conscience in the light of the Word of God", defying the authority of the Pope and becoming the first one to translate the Bible to the German language.
In the first 72 hours, 34,000 copies of Luther were sold. According to the company, the sales of were "a huge surprise".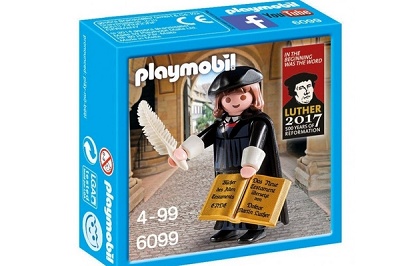 But it not only was the fastest-selling Playmobil figure, it has also been the absolute best seller in the history of Playmobil, with more than 500,000 copies sold so far.
The Playmobil figure of German Renaissance painter Albrecht Dürer was number one, with 80,000 units sold over 3 years.

A GLOBAL LUTHER
About 95% of the buyers of the toy were initially German. But rapidly people from the US, Italy, Spain, Sweden and many other places showed interest.
The toys are sold mainly at the Nuremberg Tourist Office. From there, they are redistributed to Austria, Switzerland and other parts of Europe.
However, members of the official Playmobil Collectors Club can also get their "little Luthers", and the popular figure is offered on Amazon.
The 7.5 cm Martin Luther toy was created in cooperation with the German Tourism Center, the Congress and Tourism Center of Nuremberg, and the German Evangelical Church (EKD).
Published in: Evangelical Focus - life & tech - Half a million 'little Luthers' sold