Refugees on the screen
The migrant crisis now forms part of imaginary technology through different initiatives and platforms, such as mobile phone apps and videogames.
03 APRIL 2018 · 10:00 CET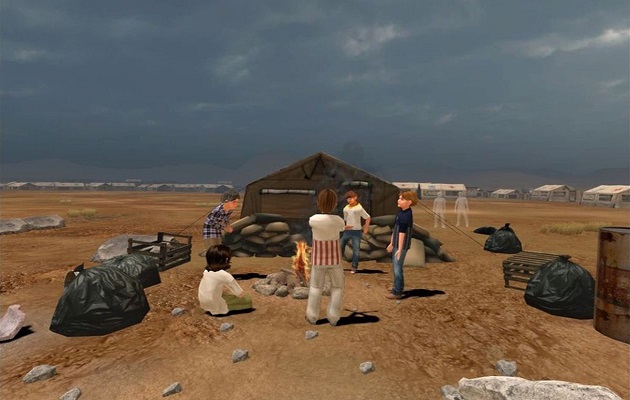 A scene of Project Syria, which shows the life of children in refugee camps.
A child singing in an unknown street of a Syrian city. Suddenly a bomb explodes and everything is filled with smoke and ashes. The child´s body is now lying on the ground and people around are shouting, fleeing in all directions.
Despite how realistic this scene has become in recent years, this scenario belongs to Project Syria. Project Syria is a virtual reality initiative that puts the user in the place of an eyewitness of the events that happen in the country, allowing them to see it through a subjective view point.
This is not the only project of its kind. This situation of people arriving into Europe and needing refuge has been raised by different perspectives in the sector of video games and technological interaction.
Another example is Bury me, my love in which the user takes the place of a husband whose wife is trying to get into Germany. All their interaction takes place on an instant message app which proves to be vital in saving her from the hands of human traffickers and from other dangers along the way.
This war of mine: The little ones portrays war from children's point of view.
INTEGRATION AND SHELTER
There are also those projects that tackle the issue of integration and shelter. For example, 21 Days or Papers, please, in which the user becomes a sort of documentation dealer.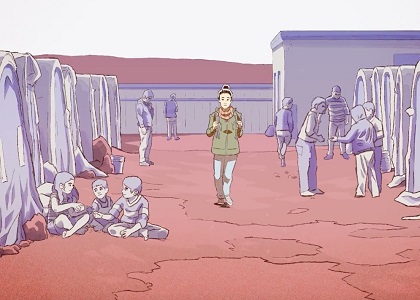 All these are simulations of a complex reality and seek to create an awareness in an industry that is dedicated, nearly in its totality, to sport and violence. "I think that they are good if they can show the risks of being a refugee. The results, and not the violence", reassures Paul Sydnor, European regional representative of the International Association for Refugees.
TECHNOLOGY FOR WELCOMING AND ACCOMODATIONG
The debate concerning of whether or not this type of initiative can actually help seems to have been overcome.
Technology forms part of social reality, including the reality that people need refuge, and therefore it has been simply absorbed as another field in this line of work. "Technology initiatives can be an important part of helping refugees. Since they find themselves in a completely foreign country and culture, two of their greatest needs are social connection and information", explains Francisco Alves, of the ministry Trans World Radio Europe (TWR).
Since 2015 TWR has set in motion various projects relating to the reception and integration of people on the continent, such as a series of audios in Arabic, Farsi, Dari and Tamil. "We have a project called "New Country, New Home". Through a fictional story, we explore common refugee struggles and spiritual questions", says Alves. This 30-episode series was produced specifically to be listened to via a smartphone app, the crowning jewel of this ministry.
The project, called "The Love Europe app", is a platform that integrates different functions. For example, locations where they can learn the local language, an events calendar with local refugee events, or the possibility of connecting with other people who are also using the app. The app is available in 14 languages, including seven European and seven non-European languages and is available in Germany, the Netherlands, Switzerland and France. According to the organisation, the app will soon be available in Greece, Austria, Sweden, Malta and the UK. "Everything is very location based. The user can select the region of Europe where he/she lives, so that the app only provides information that is relevant for that region", points out Alves.
This initiative is based upon the fact that the great majority of people who arrive to the continent have access to a digital connection. "TWR's audience research found that 98% of refugees in Europe either have a smartphone or have access to one through a relative or friend. They need smartphones to communicate with their families back home, find out information about their new home, and guide them through the asylum process", Alves advocates.
The availability of internet connection is perhaps one of the most difficult challenges here. This is solved through the option of being able to download the material from the app in order to access it later, thus without the need of being constantly connected.
Published in: Evangelical Focus - life & tech - Refugees on the screen