Study: Extramarital affairs 'unacceptable', divorce widely 'accepted'
France and the Czech Republic stand out as countries where extramarital affairs, abortion and homosexuality are largely accepted.
WASHINGTON D.C. · 18 AUGUST 2015 · 17:45 CET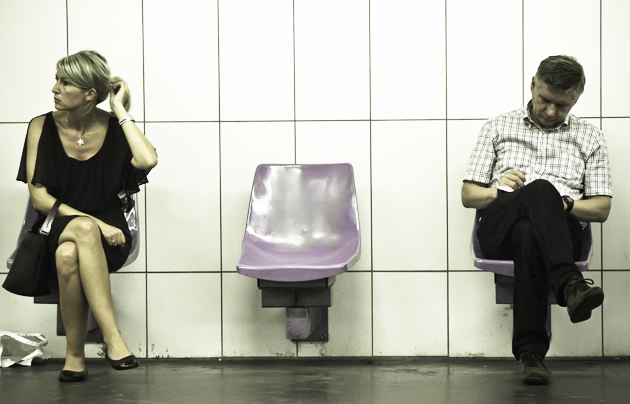 Passengers in a metro station. / Elvin (Flickr, CC)
A study in 40 countries (ten of them, in Europe) showed that contraception use and divorce are widely accepted in most societies, whereas a majority thinks extramarital affairs and gambling are "morally unacceptable."
The study was carried out by Pew Research in 2013 and 2014, and included European countries Great Britain, Italy, Spain, Poland, France, Germany, Czech Republic, Russia and Turkey.
"A median of 78% across 40 nations said married people having an affair was morally unacceptable, with only 7% saying it was morally acceptable", the study finds. The exception was France, where 40% said having extramarital affairs was not a moral issue. Germany, Italy and Spain where also more open to these kind of relationships than the median.
Four out of ten worlwide see divorce as acceptable. Chile and Brazil lead the list, and European countries like Germany (58%) and Spain (57%) think divorcing is "morally acceptable". 52% of the French population thinks it is "not a moral issue".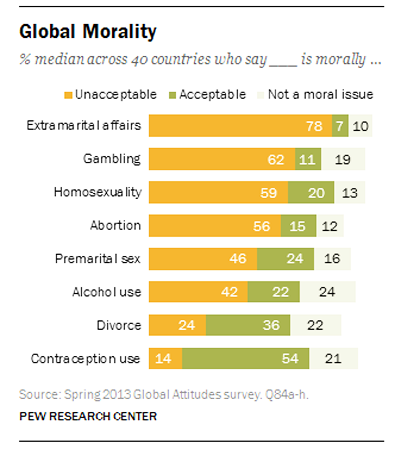 Asked about gambling, 62% of all respondants thought it was not appropriate. Most people in France (56%), Spain (51%), Italy (48%), United Kingdom (41%) responded saying it was "not a moral issue". In Japan, more than 3 in 10 thought gambling is a morally acceptable activity.
European countries were on the top of the list again when asked about homosexuality. The Czech Republic (56%), Spain (55%) and Germany (51%) are the countries in which more people saw this sexual expression as "morally acceptable".
On the other hand, 7 out of all 40 countries had more than 90% of population saying homosexuality was "morally unacceptable", with Ghana, Jordan and Egypt leading this section, and Russia exceeding 70%.
Abortion is widely accepted in the Czech Republic, where 47% of population see it as acceptable, and only 18% are against the practice. Germany (43%), France (38%) and Spain (35%) also find it morally acceptable. The median acceptance of abortion worldwide is much lower: 15%.
The use of contraceptives is seen differently. Latin American countries like Venezuela, Brazil and Chile top this list with European countries like the Czech Republic, Germany, Spain, United Kingdom, Russia, Italy and France showing more than 50% of acceptance. Countries like Turkey (21%) and Poland (17%) have a significant amount of population describing it as "morally unacceptable."
Finally, the study asked about the use of alcohol: 24% think it is "not a moral issue." Seven out of the 10 European countries think it has no moral implications, and only Turkey (69%) and Russia (44%) have a majority that sthinks drinking is "morally unacceptable."
See the study's full results, by countries, here.
Published in: Evangelical Focus - life & tech - Study: Extramarital affairs 'unacceptable', divorce widely 'accepted'