Assisted dying bill defeated by clear majority
"Right-to-die bill" was rejected by 330 votes to 118, in the first vote on the assited dying in almost 20 years.
Agencies, The Guardian, BBC · LONDON · 11 SEPTEMBER 2015 · 16:30 CET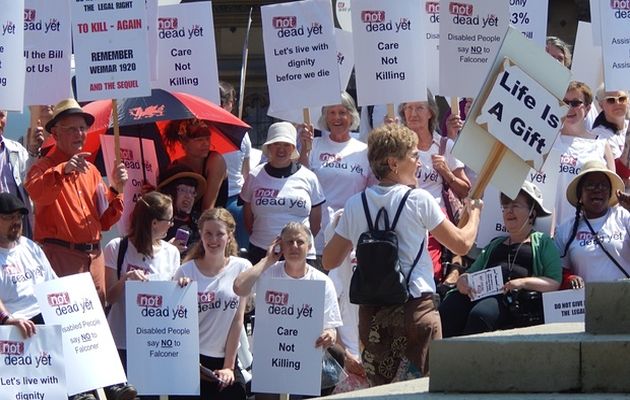 People protesting for the Bill / Corbis
MPs have rejected plans for a right to die in England and Wales in their first vote on the issue in almost 20 years.
In a free vote in the Commons, 118 MPs were in favour and 330 against plans to allow terminally ill adults to end their lives with medical supervision. It is the third time such legislation has failed since 1997.
In a passionate debate some argued the plans allowed a "dignified and peaceful death" while others said they were "totally unacceptable".
Under the proposals, people with fewer than six months to live could be prescribed a lethal dose of drugs, which they have to be able to take themselves. Two doctors and a High Court judge would have to approve every case.
It would not allow a person with a non-terminal disability or with dementia to be assisted to die. Medical professionals would be entitled to refuse to be involved.
ROB MARRIS INTRODUCTION
The bill is being brought before the Commons by Rob Marris, the Labour MP for Wolverhampton South West.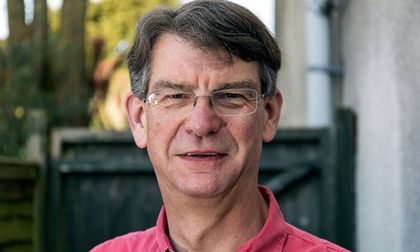 He opened the debate saying there were too many "amateur suicides, and people going to Dignitas" and it was time for parliament to debate the issue because "social attitudes have changed".
"The law in England and Wales has not got the balance right.""This Bill would provide more protection for the living and more choice for the dying", he added
Mr Marris stated he did not know what choice he would make if he was terminally ill, but said it would be comforting to know that the choice was available "to have a dignified and peaceful death at the time of my choosing.
PASSIONATE DEBATE, PERSONAL TESTIMONIES
Fiona Bruce, the MP for Congleton, said the bill was so completely lacking safeguards for the vulnerable that "if this weren't so serious it would be laughable".
The Conservative MP Caroline Spelman added that "the right to die can so easily become the duty to die" and she said the law already provided protection for the elderly and disabled.
She was one of many MPs to argue that it was difficult to determine whether someone had six months to live.
An emotional Dr Philippa Whitford, the SNP's health spokesperson and a breast cancer surgeon, argued that with good palliative care the "journey can lead to a beautiful death".
"We should support letting people live every day of their lives till the end," and she urged MPs to vote for "life and dignity, not death".
Another emotional interventions was from Labour's Yasmin Qureshi, who said her 83-year-old mother had been given three days to live and began to say she felt a burden on her family and could not go on, yet survived and fully recovered.
Another Labour MP, Jim Fitzpatrick, said his use asbestos gloves and other clothing during his time in the fire service had led him to fear a painful death from mesothelioma. "If that's what lies in store for me, I want to control my own death," he said.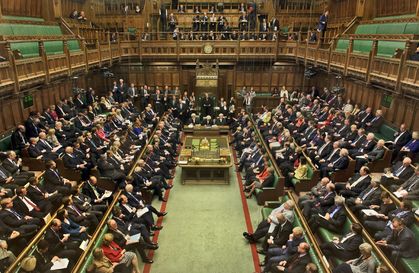 Prime Minister David Cameron was not present at the debate, but a spokesman said: "The Prime Minister has made his views clear on this issue before, he is not convinced that further steps need to be taken and he is not in favour of an approach that would take us closer to euthanasia."

"TERMINALLY ILL WILL FEEL RESPONSIBLE TO DIE EARLY"
According to a poll carried out before the voting by Christian charity Care, and released exclusively to Premiere magazine, 76% of UK population think terminally ill would feel responsibility to die early. Additionally, the poll showed that shows 86 per cent were concerned terminally ill people would be offered assisted dying to save cash.
REACTIONS TO THE VOTING
Dr Peter Saunders, campaign director of the Care Not Killing campaign said the vote was an "unequivocal rejection" of a "dangerous piece of legislation".
"We hope Parliament will now turn its attention to the real issues facing our country of ensuring that everybody can access the very best care, regardless of whether they are disabled or terminally ill and that we found this adequately."
Speaking for the Church of England, the Bishop of Carlisle the Rt Rev James Newcome, said: "The vote in the House of Commons sends a strong signal that the right approach towards supporting the terminally ill is to offer compassion and support through better palliative care."
Sarah Wootton, chief executive of Dignity in Dying, said: "The vote only goes to show just how ridiculously out of touch MPs are with the British public on the issue.
And Rabbi Dr Jonathan Romain, one of a group of faith leaders supporting assisted dying said: "We are saddened that it failed to progress, as it dashes the hopes of those who wish to avoid ending their days in pain or incapacity.
RELIGIOUS LEADERS AGAINST THE BILL
The vast majority of Protestant and evangelical leaders in the United Kingdom have challenged the proposed bill.
The United Kingdom Evangelical Alliance (EAUK) "strongly opposes" assisted suicide and urged Christian believers to write letters to their representatives to let them know their concerns.
Besides, thirty-four church leaders of Marris' Wolverhampton constituency showed their concerns about his MP's initiative voted today at the Commons.
Published in: Evangelical Focus - life & tech - Assisted dying bill defeated by clear majority