Outgoing Christian Governor of Jakarta found guilty of blasphemy
'Ahok' is sentenced to two years of prison. The judges say the Christian politician "has caused anxiety, hurt Islam and divided Muslims." Islamic radicals increase pressure on Christians.
Jakarta Post, BBC, The Guardian, Evangelical Focus · JAKARTA · 09 MAY 2017 · 15:42 CET
Ahok, the outgoing Governor of Jakarta, during the hearing on 9 May. / Financial Review
The North Jakarta District Court found the outgoing Jakarta Governor Basuki 'Ahok' Tjahaja Purnama guilty of blasphemy and sentenced him to two years in prison.
A HARSH SENTENCE
The sentence has been harsher than that requested by prosecutors, which was a one-year suspended sentence.
'Ahok' was "found to have legitimately and convincingly conducted a criminal act of blasphemy, and because of that we have imposed two years of imprisonment", the head judge, Dwiarso Budi Santiarto, told the court.
"As part of a religious society, the defendant should be careful to not use words with negative connotations regarding the symbols of religions, including the religion of the defendant himself."
"The defendant feels no remorse. His action caused anxiety, hurt Islam and divided Muslims and groups", presiding judge Dwiarso added.
AHOK: "WE WILL APPEAL"
The five-judge panel rejected 'Ahok''s defense, saying the governor's conduct was in no way relative to national unity, and ordered Ahok's immediate arrest.
Purnama, whose term as the capital's Governor ends in October, said he "will soon appeal the court's findings."
PROTESTS IN THE STREETS
'Ahok' is a Christian with ethnic Chinese roots in Muslim-majority Indonesia, and his verdict was met with strong protests.
Exstremist Islamic groups who called for the maximum penalty of five years said it was too lenient, but Mr Purnama's supporters said it was too harsh and that he should be acquitted.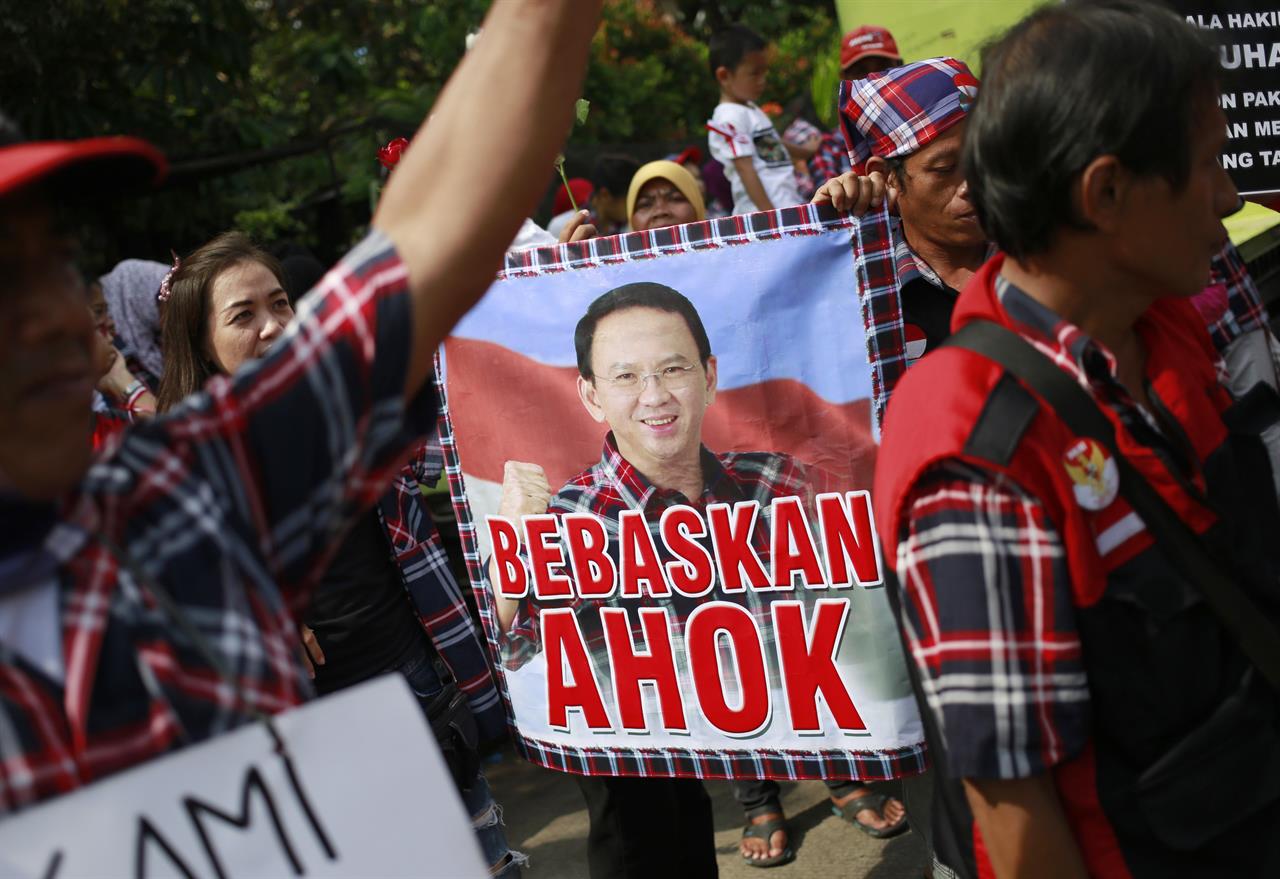 Protesters from both camps had gathered outside the court, which was guarded by around 15,000 security personnel from the police and military.
ACCUSED OF BLASPHEMY
The outgoing Governor was accused of blasphemy for comments he made during a pre-election speech in September 2016.
He implied that Islamic leaders were trying to trick voters by using a verse in the Quran to argue that Muslims should not vote for a non-Muslim leader.
Throughout the trial, Purnama denied wrongdoing, and did apologise for his comments.
A CHRISTIAN GOVERNOR
'Ahok' became governor after his predecessor, Joko "Jokowi" Widodo, was elected president in 2014. He was Jakarta's first non-Muslim governor for 50 years.
Last February, he won the first round of gubernatorial elections, but after a very dirty campaign, led by radical Muslims who protested against his Christian faith, he lost his bid for re-election in an April run-off to a Muslim rival, Anies Baswedan.
"Trust me, power comes from God and it too can be taken by God. No one comes to power without God's permission. Don't be sad. God knows", he then said.
VIOLENCE AGAINST CHRISTIANS ON THE RISE IN INDONESIA
Indonesia is the world's most populous Muslim country. About 87% of its population are Muslim, and the country officially respects six religions.
But violence against Christians has increasingly grown in the country. Muslims authorities have banned churches for religious activities, and others have been attacked.
Indonesian Christians are scared and Christians call to pray that "God protects His churches and believers throughout Jakarta and Indonesia, as the threat has extended to cover the entire nation."
Published in: Evangelical Focus - world - Outgoing Christian Governor of Jakarta found guilty of blasphemy