Thirteen killed as Islamist family attacks three churches in Indonesia
Two are Protestant and one is Catholic. A family of six, including three children, carried out the synchronised attack. They had travelled to Syria to be trained by Daesh, authorities say.
JAKARTA · 14 MAY 2018 · 11:49 CET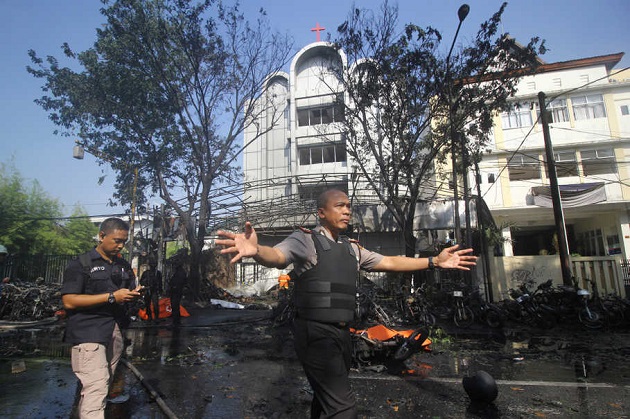 One of the churches attacked on May 13, in Surabaya. / Antara, Jakarta Globe
Three Christian churches in the second city of Indonesia (Surabaya), were attacked on Sunday 13 May by a single family of six members, including three children.
The father of the family attacked the Surabaya Centre Pentecostal Church with a car bomb.
The two sons (aged 16 and 18) detonated explosives they were carrying as they drove their motorcycles into the Santa Maria Catholic Church.
Meanwhile, the mother and two daughters (aged 9 and 12) blew themselves up at the Protestant Diponegoro Indonesian Christian Church.
The blasts were heard within the space of 10 minutes, during the morning services. Daesh (Islamic State) claimed the attacks.
The authorities confirmed that at least 13 people died and 41 had been injured. It is the worst terrorist attack in Indonesia since 2005.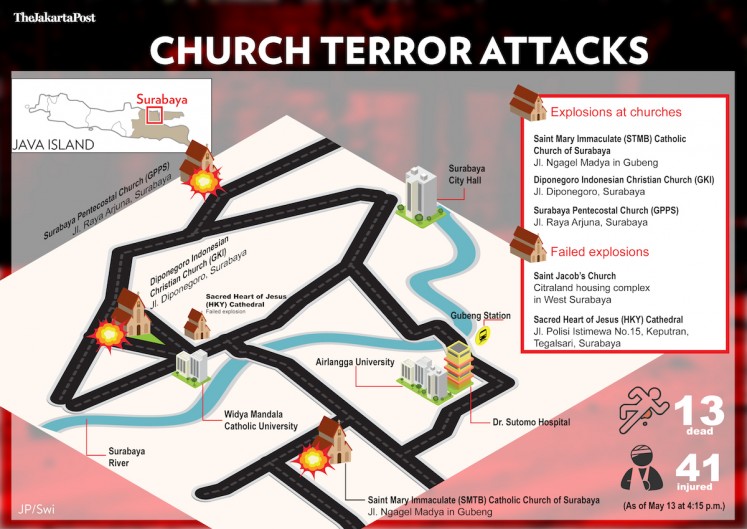 On Monday, a second attack (carried out, again by a family of suicide bombers) hurt ten people at the police headquarters in Subaraya.
UN AND CHRISTIANS REACT
The President of Indonesia Joko Widodo condemned the attacks as "barbaric" and visited the site of the Pentecostal church, where he told the media: "Terrorism is a crime against humanity, it has nothing to do with any religion".
The Secretary General of the United Nations, Antonio Guterres, expressed its support for the relative of the victims and said he was "appalled at reports that children were used to participate in the attacks".
The Indonesian Churches Association and Muslim organisations Nahdlatul Ulama y Muhammadiyah condemned the attacks.
The deputy secretary general of the World Evangelical Alliance, Godfrey Yogarajah said the WEA "strongly condemn this mindless attack on Christians in Surabaya". On Sunday, US magazine Christianity Today quoted him as saying: "We stand in solidarity with Christians in Indonesia during this difficult time and call on the global church to pray for all those affected in the attacks".
MUSLIM RADICALISATION AND THE CHRISTIAN MINORITY
The Indonesian government said the suicide attackers were among the approximately 500 Islamist militants that returned from Syria.
Almost nine in ten Indonesians are Muslims, in what is the country with the biggest overall Muslim population in the world – 220 million.
The Christian minority is mainly formed by 17 million Protestants and 3 Million Catholics.
The radicalisation of Islam in the country has become one of the main challenges in the region, as pressure has grown on Christian churches in the last years.
In Indonesia's capital Jakarta, the first ever Christian governor was jailed in May 2017. A defamation campaign led him to be charged with blasphemy against Islam.
Published in: Evangelical Focus - world - Thirteen killed as Islamist family attacks three churches in Indonesia