Peru: Football hooligans and members of an evangelical church clash
The Upper Room Church is in a legal dispute with the football club Alianza Lima over land surrounding the stadium.
Evangélico Digital · LIMA · 17 SEPTEMBER 2018 · 09:36 CET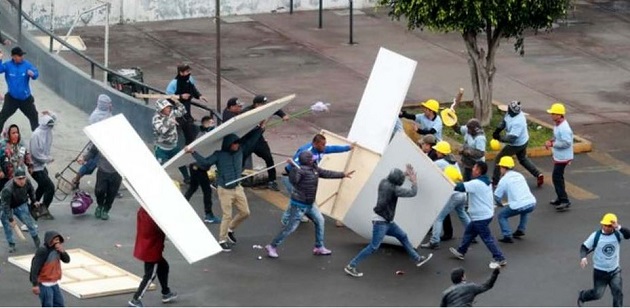 Alianza Lima hooligans and members of an evangelical church in the city clash. / El Comercio
Dozens of members of an evangelical church in Lima (capital city of Peru) and of hooligans of one of the most popular football teams in the country clashed violently outside the Alianza Lima football club stadium.
A legal fight over a portion of land surrounding the sports arena was the cause of the fights.
At least two fans were detained by the police and one member of the evangelical church was injured, the Lima police department told the media.
Officers had to use tear gas to control the situation.
'ARK OF ALLIANCE' AND VIOLENCE
A big number of members of The Upper Room – wearing blue shirts and yellow helmets – arrived to the surroundings of the church in buses early in the morning, entered the land in dispute and started to cover the portraits of historic football players of the Alianza Lima football club with white paint. Then, they paraded with a rectangular object that resembled and 'Ark of Alliance'.
Hours later, groups of fans of Alianza Lima arrived to the site, the violence between the two broke out.
A LONG DISPUTE
The conflict between the football club and the church has been a hot issue for many months, and the judge has not issued a definitive sentence to clarify the situation.
Alianza Lima said in a statement they have owned the land outside the stadium for forty years, but the lawyer of the church told journalists that The Upper Room inscribed this property in public registries.
This conflict is just one of many examples of the legal insecurity in the area of real estates in Peru.
The Upper Room claims the church bought the land in 2017. Since then, they said, there has been attempts to communicate with the football club to take possession of the site. The church will start a court process formally asking the football club to move out.
According to the law, only a judge can authorise the possession of a real estate.
EVANGELICALS IN PERU
The Upper Room is a church founded in 1987 by Peruvian Pastor Alberto Santana. This evangelical group has thousands of members across the country, mainly among working classes and in suburban areas. In the last presidential election, they specifically supported the conservative candidate Keiko Fujimori.
There are no official statistics about the number of evangelical Christians in Peru, a country of more than 31 million inhabitants, most of them Catholics. But academic research suggests that evangelical Christians are between 11 and 17 per cent of the population.
Published in: Evangelical Focus - world - Peru: Football hooligans and members of an evangelical church clash