Ebola outbreak in DR Congo declared international health emergency
The outbreak started one year ago, and 1,700 people have died so far. The World Health Organization calls to respond with "international solidarity".
Protestante Digital · GOMA · 19 JULY 2019 · 16:30 CET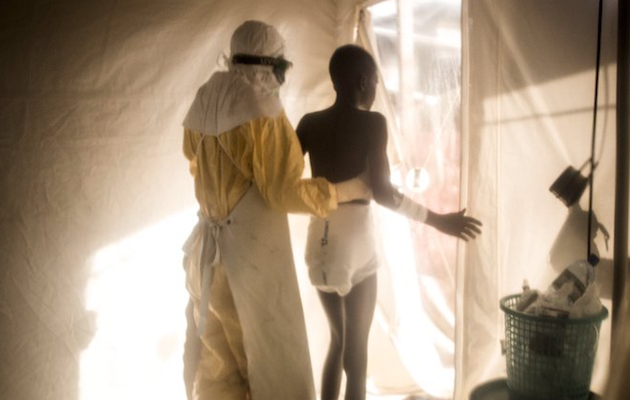 A medical doctor with a person affeced by Ebola in Beni, DR Congo. / Twitter @wesselsjohn1
Almost one year after the start of the outbreak, in August 2018, after which 1,700 people have died, the World Health Organization (WHO) has declared the situation of Ebola in the Democratic Republic of Congo an international health emergency.
The decision was taken after the death of a person in the city of Goma, adjacent to the border with Kenya.
"Unless the international community acts and finances an answer now, we will pay the consequences of this outbreak for a long time", the President of the WHO, Tedros Adhanom Ghebreyesus said. "It is time that the international community shows solidarity with the population of DR Congo and does not isolate them".
Several medical experts said there are enough medicines and resources this time, to avoid the outbreak turning into a crisis such as the one experienced in 2014, when more than 11,000 people lost their lives in Western Africa.
"We have vaccines and number of treatments", told newspaper La Vanguardia Doctors Without Borders Ebola expert Luis Encinas. "But all these are experimental, meaning that an informed consent needs to be signed every time, which is an added obstacle in the already difficult task of reaching the affected communities".
A LINK BETWEEN THE ARMED CONFLICT AND EBOLA?
Several media have linked the difficulties to reach rural areas with the presence of armed groups in those regions. Nonetheless, there is no foundation for such connection, a trusted source in RD Congo told Protestante Digital.
"It is true that is the second worst outbreak of history, but it is not true that it has suddenly worsened. It has been declared a global emergency because it now affects more than two countries".
"Many media have published that the outbreak is difficult to control because it started in a conflict zone and that there are attacks of rebel groups against those who try to respond to the health emergency. But it is much more complex than that. It is not true that rebel groups are attacking organizations working against the disease, it is more that the communities themselves do not understand certain strategies and make it difficult to work. But this is not easy to explain", the source underlined.
The World Health Organization asked "not to use the public health emergency declaration as an excuse to impose restrictions to trade and travelling". The United Nations entity has also informed about the start of "amplified humanitarian aid protocols to support the response to Ebola".
Published in: Evangelical Focus - world - Ebola outbreak in DR Congo declared international health emergency