Overwhelming response to a Catalan evangelical project to help refugees
An evangelical association in Barcelona will send 4 trucks to Idomeni and other refugee camps in Greece. Many media reported about the project.
Protestante Digital · BARCELONA · 01 APRIL 2016 · 17:20 CET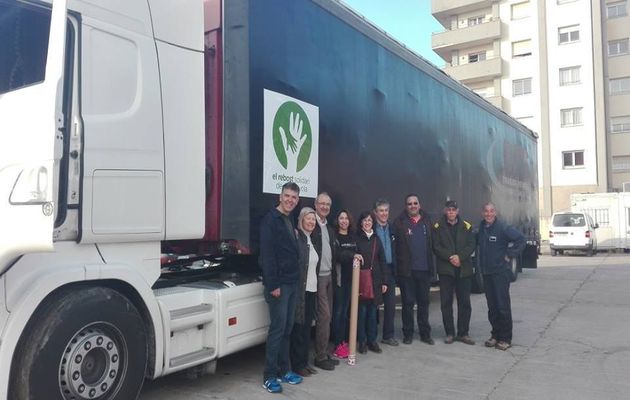 The first trailer, ready to leave / Rebost Solidari
Rebost Solidari, the social branch of the Baptist Church of Cerdanyola (Barcelona region), will send 4 trucks full of clothing, toys, and tents to Idomeni and other refugee camps in Greece, after hundreds of citizens joined the project.
With the help of many different individuals, social organisations, local churches and authorities, the church has reached the final stage of the project of "sending blankets, tents, soap, shoes, and everything that fits in 4 trailers."
The help comes from many places throughout Catalonia and even from other parts of Spain.
"Our first trailer is crossing Italy right now to take the ferry tomorrow to go to Athens, its destination is the Malakasa refugee camp", they wrote in Facebook when the first trailer left Cerdanyola.
Citizen participation has been exceptional. "We are overwhelmed", Daniel Banyuls, coordinator of the initiative, explained.
Therefore, the organisation said they cannot take "any more boxes". The priority now is organising and packing everything they have received, so that it can be sent to its destination. They need volunteers for this new stage.
The challenge now is that "this large excess can only be sent in a second delivery, as long as political and logistic conditions in Greece, and economic conditions in Spain are good, but we cannot control that."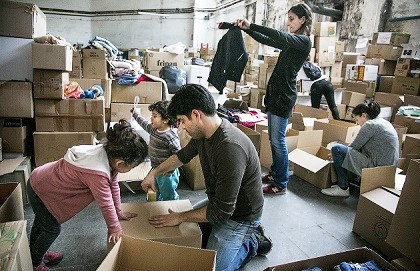 GRATEFUL TO "HUNDREDS OF PEOPLE"
The organisation thanks "hundreds of people, friends and strangers" from many cities in the Catalonia region. Vans with different items have also come from other parts of Spain, like Malaga, Zaragoza and the Basque country.
They also thank "two groups who have worked in coordination with us, and without whom the logistic would have been impossible: the firefighters and the evangelical churches of Catalonia.
Covering the transport costs of everything they have received is the main need now. Rebost Solidari has opened an account for anyone who wants to donate.
PUBLIC TV COVERAGE
The Catalan public TV (TV3) sent a journalist to the organization's headquarters to cover the departure of the first trailer to Greece.
"We are overwhelmed", said Victoria Martinez, vice-president of Hesed Association, and member of the Figueres Baptist Church, in Girona.
"I wish we could fill 3 more trailers here, but the cost would be high […]. Each trailer costs 4,000 Euros."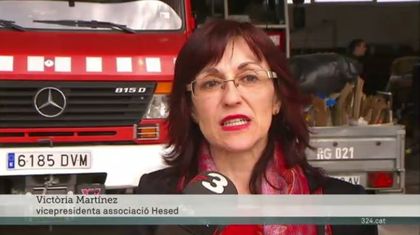 This Wednesday the first goal was achieved: "Today at 9:30, the first trailer has departure from Figueres to Greece, all expenses paid. The driver was a volunteer", they explained on Facebook.
"HELP IS COMING FROM EVERYWHERE"
The next day (Tuesday), TV3 came back to the place where the volunteers were working for the next delivery. During the 8-minute live connection, different volunteers were interviewed.
"Help is coming from everywhere, literally from every district of Catalonia, and we even received a truck from Malaga, in the south of Spain. We are stunned with the response."
In the storehouse all donations were classified by the volunteers: "men underwear, women T-shirts, children trousers, etc..."
Banyuls also explained the direct implication of the Greek authorities: "The Greek consulate in Barcelona is helping us to make all the arrangements with the Spanish government so that we can send a bigger and more powerful second delivery."
You can see the 8-minute feature here (In Catalan):

In the report, Daniel Chicano, member of Bethel Evangelical Church in Sant Boi de Llobregat, Barcelona, tells a journalist: "We put the items in boxes, with tags in English, so that they know what it contains when they receive it. We have started with little things, but when we watch the news from Greece on TV, we feel responsible. It has exceed our expectations, and we cannot take more boxes."
NEWSPAPERS ALSO COVERED IT
Catalan written and online media have also widely informed about the project.
Newspapers Ara, El Punt Avui, and La Vanguardia have made reports about it, and other local newspaper have even interviewed members and a pastor of Catalan churches.
On social networks, the hastag used is #SosRefugiats (sos refugees).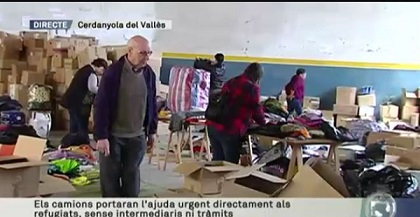 Rebost Solidari had already organised a delivery of shoes to a Croatian refugee camp, some weeks ago.
Published in: Evangelical Focus - cities - Overwhelming response to a Catalan evangelical project to help refugees