Afghan Christian in Germany presumably killed because of her faith
Friends and church leaders supported the two children of the "exemplary" mother in the funeral. The police talks about a probable "religious motivation" of the Muslim attacker.
Pro Magazin, Idea · MUNICH · 08 MAY 2017 · 16:05 CET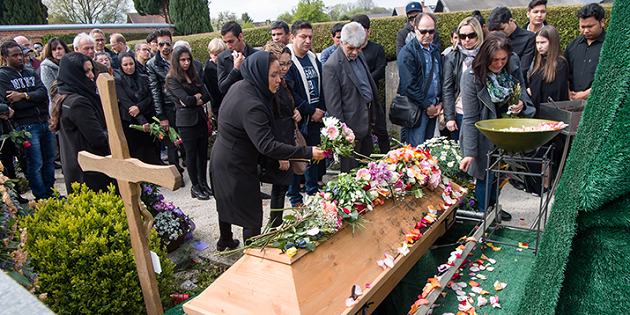 About 200 people attended the burial ceremony of the Afghan Christian woman. / DPA
Dozens of friends, neighbours and Christian leaders supported the relatives of an Afghan woman who was killed in front of her two children, last week in the region of Bayern (Germany).
A 29-year asylum seeker (also from Afghanistan) has been accused of stabbing her with a kitchen knife outside of a supermarket, the police said. After the attack, the woman was brought to a hospital but later died.
The Christian woman, F.S., had left Afghanistan and was an "example of integration", a representative of the local authorities of the locality of Prien (Bayern) said.
She was a member of an Evangelical Protestant church in the town.
In addition, she also supported a Bible study group for Afghans organised by a free evangelical church in a nearby town. The woman had been baptised eight years ago and was an outspoken Christian.
"A religious motivation is being examined, although we cannot confirm this yet", police spokesman Stefan Sonntag explained.
The attacker was a Muslim known for being psychologically unstable. He presumably knew the woman.
A sister of the Afghan victim told newspaper Bild that she "was killed because she was a Christian."
Published in: Evangelical Focus - cities - Afghan Christian in Germany presumably killed because of her faith