Thousands march for life in Madrid
Around 30,000 people gathered to defend the right of life. The participants denounced the 100,000 abortions that take place every year in Spain.
Susana Feito, Protestante Digital · MADRID · 18 APRIL 2018 · 09:53 CET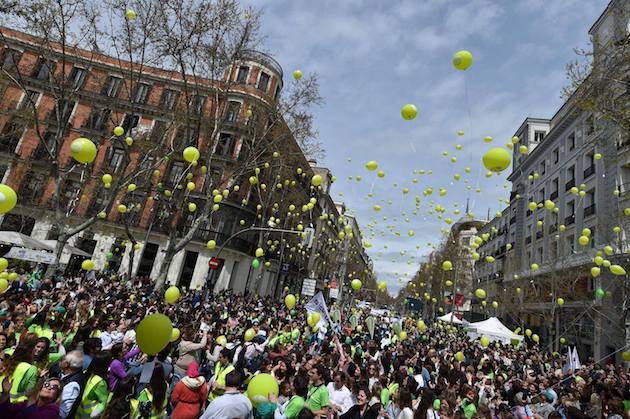 Balloon with messages were released in the 15 April Yes To Life march in Madrid. / Facebook Si a la Vida
Thousands of people attended a march for life on Sunday, April 15 in Madrid, organised by the platform "Yes To Life", formed by more than 500 pro-life organisations from across the country.
The march went through some of the most emblematic streets of Madrid, to finish at Puerta de Alcalá, in downtown Madrid. There, hundreds of green balloons were launched to peacefully and festively claim respect for human dignity in all its stages of life.
According to the evangelical pro-life association AESVIDA, there were many young people and teenagers, "who resist following the mainstream thinking of this society, and chanted messages against abortion with great conviction".
MUSIC, DANCES AND TESTIMONIES
At the end of the march, there was a concert with music, dances and moving testimonies. Among them, the story of Gracia, who become a mother when she was 15 years old: hugging her daughter, she told how she does not regret her decision.
The act concentrated people of all ages, political and beliefs.
AESVIDA, PRO-LIFE EVANGELICAL ASSOCIATION
The evangelical association AESVIDA, was represented at the head of the march by Remedios Losada, a survivor of several abortion attempts and coordinator of the association.
AESVIDA also contributed to the event through choreographies, performed by members of the association.
The event ended at 2:30 pm, after a minute of silence for those who were not born and the traditional release of balloons with messages written by the attendees.
About 100,000 abortions were practiced in Spain last year.
The march was, according to AESVIDA, "a celebration for that wonderful gift that is life", the evangelical association pointed out.
Published in: Evangelical Focus - cities - Thousands march for life in Madrid