OM 'Transform' conference in Tarragona
During the gathering, a cycling team traveled 355 km to several villages in the region where there is no Christian witness.
TARRAGONA · 20 JULY 2018 · 09:10 CET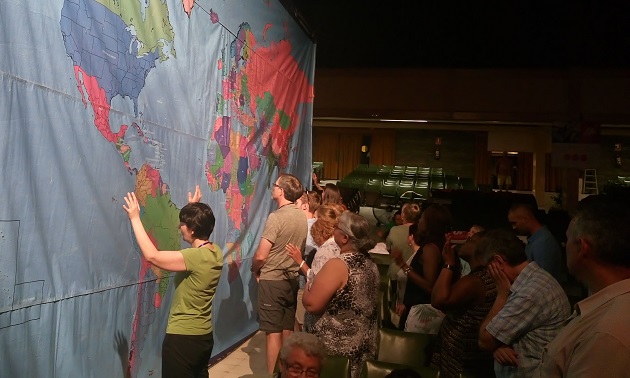 The massive world map encouraged people to pray for the world. / OM
"The massive world map decorating the main hall, helped me realize how big God is," reflected one of the Spanish pastors at the Transform conference. He was attending the pastors' meeting at the OM Transform conference in Tarragona (Spain).
July 2018 marked the second time the event was held in this area (third year in Spain) and nearly 100 participants came from countries as far apart as Hong Kong and Bahamas, Canada and South Africa, and of course Europeans, including 15-20 members of local churches.
The Exodus group from Ireland had already done a teen camp with a local church, and the group of South Asians residing in Canada, came to reach immigrants in Portugal. The local band, 'Celobert', lead worship together with Aleithia Sweeting from Bahamas.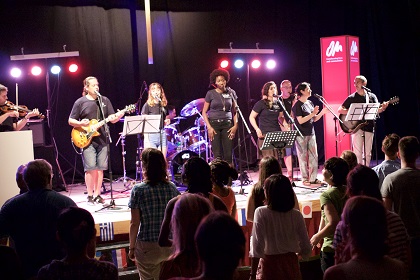 A special meeting for pastors and missionaries gathered 14 from eight churches.
TO KNOW JESUS IS TO KNOW TRUTH
"Don't get hung up in the 'politics' but share Jesus. Until people receive Jesus, they cannot discern truth," said senior OM leader Peter Nicoll, who was doing the daily Bible teaching from the Gospel of John. "The spirit of truth is to know Jesus and learn to recognize his voice."
CYCLING TEAM
A cycling team traveled 355 km (during the conference) to several villages in the region where there is no Christian witness, stopping to pray and bless the areas.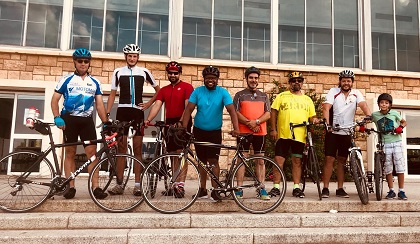 One highlight was fellowship and accommodation in a center for drug addicts the first night. None of the cyclists spoke Spanish, and Roger, their support driver, spoke Spanish with no English, yet team spirit remained high and they returned praising God.
WORKSHOPS AND OUTREACH IN CAMBRILS
Several workshops were offered: the spiritual situation in Europe, Catholicism and Islam in Europe, how to do children's ministry, identity in Christ, storytelling and more.
Thursday afternoon, all participants went into the town of Cambrils, handing out invitations to a cultural and evangelistic program in 'Parc dels Pescadors' (Fishermen's park).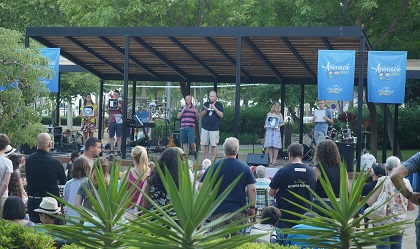 Welcomed by the Mayor Ms. Camí Mendoza, the audience enjoyed music, songs and dance from several nations.
The band 'Celobert' ended the evening, after evangelist Richard Sharp (USA) had shared a Gospel message, using the 'One Wish' principle with a very attentive audience: "If you could ask God for one thing tonight, what would that thing be?"
The Transform group stood amazed at what God had done through them as a multinational team. While they united to put on a cultural event, the Lord connected individual team members with the visitors; many were able to testify about God's love in their very own language, including Chinese, Punjabi, Arabic, French, English and more, and not to forget Spanish or Catalan, the languages spoken in this area.
LOCAL CHURCHES
Pastor Fernando Campillo, of Cambrils, shared that Transform had a great impact on the local churches: "It has renewed our vision to reach out to the lost, made us fall in love again with the Lord Jesus Christ, and helped us call out to others to join in the evangelization."
OM Spain Field Leader Rebeca Lampaya said that having the Transform conference in Spain has given more focus on Spain as a mission field, and she is in contact with people hoping to come and help share the Gospel in Spain.
"THE HARVEST IS STILL PLENTIFUL"
"During this Transform I had a deep sense of God's presence and leading, I was reminded again that our efforts are not in vain, the harvest is still plentiful and any worker added to the job is useful," concluded OM Transform Director, Mpumi Maweni (South Africa).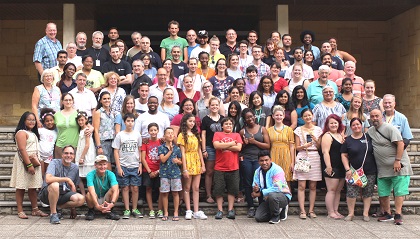 He continued: "It is in OM's DNA to esteem the local church, however as I reflect on the past week of Transform, the local church esteemed us, served us and made us realise how much we need them in order to be relaunched out into the nations."
The OM Transform conference finished Friday night with a strong call to missions and long term ministry. Saturday, the outreach teams moved out to Spain, Portugal and France.
Published in: Evangelical Focus - cities - OM 'Transform' conference in Tarragona