Christians in Rome: "We are all Asia Bibi"
Italian evangelicals were part of an inititiative in support of the Pakistani Christian woman.
Italian Evangelical Alliance · ROME · 16 NOVEMBER 2018 · 11:00 CET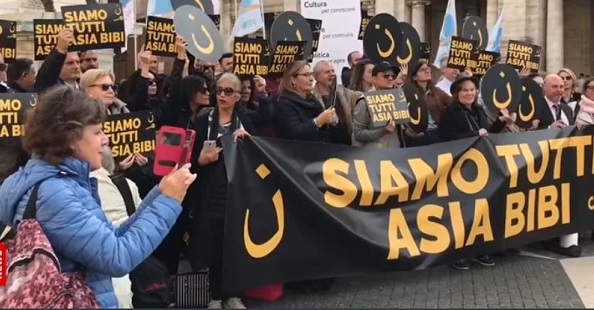 A gathering in Rome to demand the freedom of Asia Bibi. / Screenshot Vatican News
A strong voice in support of Asia Bibi was heard in Rome (Italy) on November 13.
A crowd of several hundred people gathered together at Capitoline Hill, in front of the historic site of the CIty Council, to express solidarity for the Pakistani Christian woman who, though being acquitted of all accusations of blasphemy, is still in danger and forbidden to leave the country to find asylum elsewhere.
The initiative was organized by the CitizenGo foundation and backed by several organizations, including the Italian Evangelical Alliance. The question asked to the Mayor of Rome, Virginia Raggi, was to confer honorary Roman citizenship to Asia Bibi and to display her portrait at the senatorial palace to visually show concern for her situation and those of other persecuted Christians around the world.
"We are all Asia Bibi" was the slogan of the day.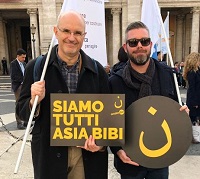 Leonardo De Chirico, vice-chairman of the Italian Evangelical Alliance, said: "While
hundreds of Italian evangelical churches are praying for the persecuted church
on the occasion of
IDOP (International Day of Prayer for the Persecuted Church)
it is important to raise public awareness as far as the dangers that many persecuted Christians around the world face day to day.
Religious freedom is always the mother of all freedoms
and we should protect it and promote it relentlessly".
Published in: Evangelical Focus - cities - Christians in Rome: "We are all Asia Bibi"