Unamuno Prize: Nine years of Protestant gratitude
Since 2006, Protestante Digital has given this award to honour a person or an institution that, not being Protestant, defends freedom of religion and evangelical culture.
Protestante Digital · SALAMANCA · 23 MARCH 2015 · 19:15 CET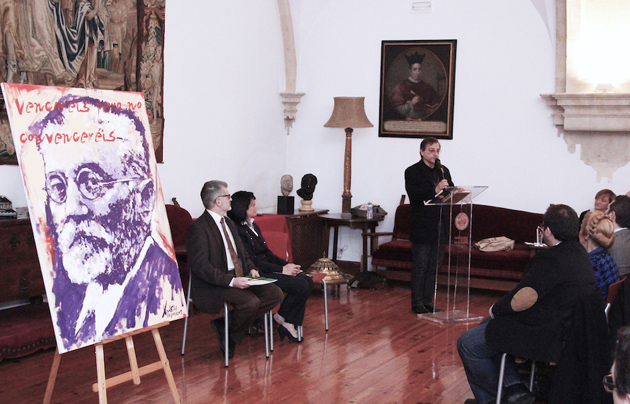 Miguel Elías during his acceptance speech. / PD
The 9th edition of the 'Unamuno, Friend of Protestants' prize took place last Saturday in the Spanish city of Salamanca. The winner was Miguel Elías, a Spanish painter and University professor.
Elías received the distinction because of his "continuous, competent, and altruistic support of social and cultural Evangelical activities in Spain, and especially in Salamanca."
AWARD CEREMONY
The award ceremony was at a very emblematic place: the house where the Spanish writer Miguel de Unamuno lived in the University of Salamanca, now a museum, which was specially opened for the occasion.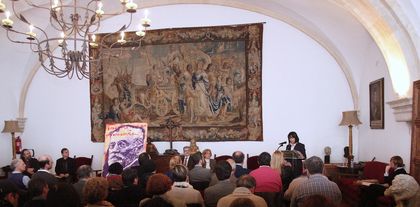 During the ceremony, Pedro Tarquis, director of the Spanish newspaper Protestante Digital, the institution that organises and gives the award, introduced Miguel Elías and explained the reasons why they had decided to give him the award. Prior to that, Asuncion Quintana, pastor of a church in Madrid, and Women's Advisor on the Evangelical Council of Madrid, gave a speech about the relationship between Miguel de Unamuno and Spanish Protestantism.
MIGUEL ELÍAS
Elias was born in Alicante, Spain, but moved to Salamanca in his childhood. He is a very well known painter, a doctor in Fine Arts, and a University professor, who has won many awards and has donated many of his paintings and illustrations to different evangelical publications and churches in Spain.
In his acceptance speech, he talked about the great influence that Unamuno has had on his life and work, and all the things they have in common. In the ceremony, he also donated to the University of Salamanca a portrait entitled "You will win, but you will not convince", in an echo of Unamuno's famous comment to the Francoist authorities.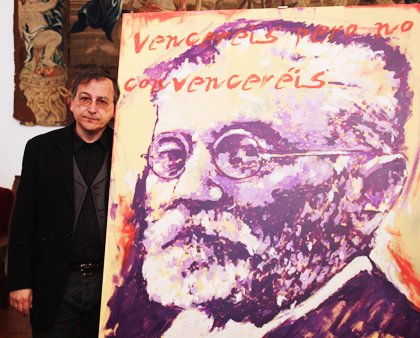 "UNAMUNO, FRIEND OF PROTESTANTS" AWARD
The prize "Unamuno, Friend of Protestants" was created in 2006 by Protestante Digital to "honour a person or an institution in Spanish society that, not being Protestant, has done something in favour of plurality and the normal coexistence between Spaniards, defending freedom of religion and evangelical culture."
The award's name was chosen to remember the great Spanish writer and ideologist Miguel de Unamuno who, although he was not a Protestant, had a very close friendship with the Spanish pastor Atilano Coco, among other leading Spanish Evangelicals of his time.
When this pastor was going to be executed by the dictator Franco, because of his beliefs, Unamuno tried to stop the execution. That was when he wrote these famous words "You will win, but you will not convince."
OTHER WINNERS
Since 2006, when the first award was given, different people and institutions have received the Unamuno prize. Among them, newspapers like "El Pais" or "Religión Digital"; the University of Las Palmas de Gran Canaria; writers, researchers, and politicians, such as the former Spanish Interior Minister, Alberto Ruiz Gallardon, who won the award last year.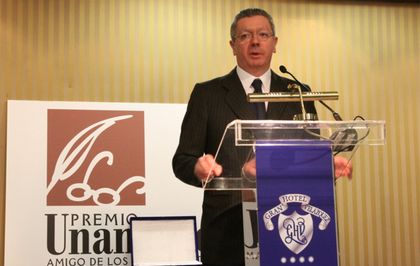 Published in: Evangelical Focus - cities - Unamuno Prize: Nine years of Protestant gratitude