Italian evangelicals denounce lack of religious freedom
Around 200 evangelicals participated in a peaceful demonstration to denounce the closure of the Punto Luce church in Milan and demand "freedom of worship for all".
Italian Evangelical Alliance · MILAN · 29 OCTOBER 2019 · 14:10 CET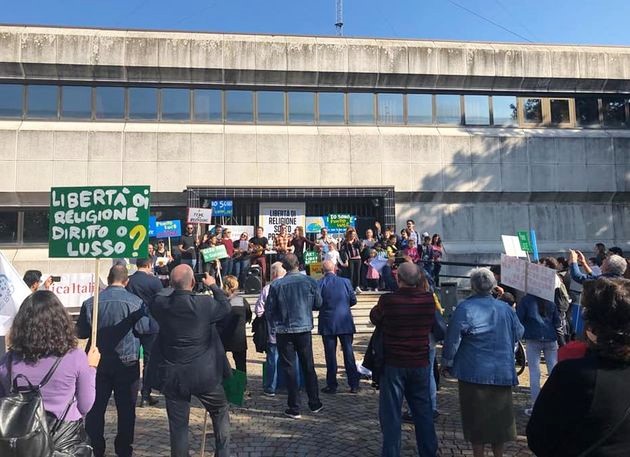 Protesters at the Punto Luce church, Milan, October 2019. / Damaris Marletta.
On June 26, 2019, the Italian church Punto Luce (Light Point) received an order from the municipality of San Giuliano Milanese in Milan, that prohibited them from meeting at their premises.
Since then, the 70 members of the church no longer have a place to meet and live their faith together. They were banned from using the rented property for "worship, cultural events and social center".
After several years of church activity, in December 2018, the local authorities checked the building from the outside and determined that it had not requested permission before their meeting.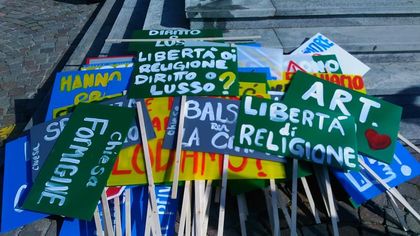 "FREEDOM OF WORSHIP FOR ALL"
In response to this closure, the Punto Luce church and the Italian Evangelical Alliance (AEI) organised a peaceful demonstration from the church to the town hall of San Giuliano Milanese, claiming "freedom of worship for all".
The march took plece on Saturday October 26, and was attended by almost 200 people from different evangelical churches.
The event started with the pastor of the Punto Luce Church, Michael Schaafsma, explaining the reasons that led the Municipality of San Giuliano Milanese to order the closure of the church's facilities.
Afterwards, the President of the AEI, Giacomo Ciccone, recalled the role and presence of evangelicals during the unification of the country and the fascist period, and he talked about the unresolved issue of the recognition of pastors as ministers of worship, and the absence of a law on religious freedom.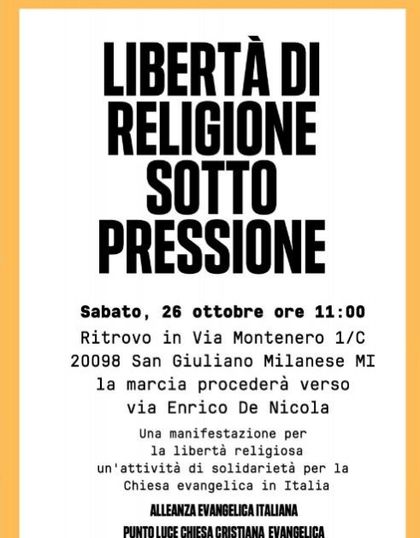 DENOUNCED AT THE UN
The closure of the church facilities was also brought to the attention of the United Nations, during the Universal Periodic Review (UPR) of Italy on September 30, 2019, a procedure by which every member state of the UN is expected, every four years, to undergo a general examination in the field of human rights.
Wissam al-Saliby (WEA defense officer), Damaris Marletta (lawyer of AEI), Michael Mutzner (permanent representative of WEA at the United Nations), Marjie Davidsdochter (defender of human rights WEA), President Ciccone, and pastor Schaafsma, pointed out that religious freedom is under threat in Italy, and Punto Luce church suffered a serious damage.
President Ciccone also talked about the predominant presence of the Catholic Church in public service networks, which leads to a disparity of treatment with respect to the majority religion.
Fabrizio Petri, President of the inter ministerial committee on Human Rights of Italy, made himself available for a meeting in Rome to better examine the issues raised.
Published in: Evangelical Focus - cities - Italian evangelicals denounce lack of religious freedom