'Courageous Christians with biblical foundations' needed, says Merkel
The German Chancellor: "We all have the freedom to have our religion, to practice it, and to believe in it."
SRF · BERN · 07 SEPTEMBER 2015 · 16:42 CET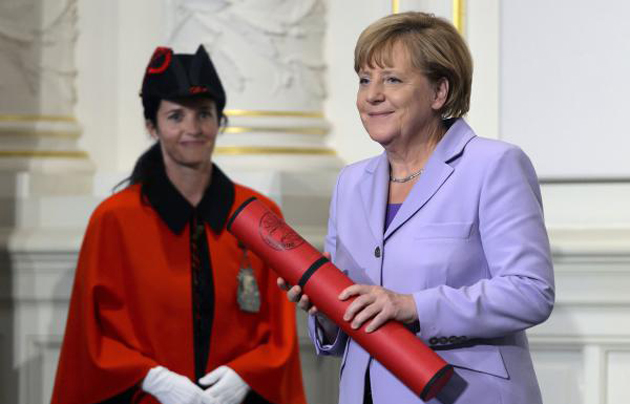 Angela Merkel in the University of Bern, last week. / SRF
German Chancellor Angel Merkel would like to see more courageous Christians who know their faith well, attend church and are open to engage in constructive social debates.
In a visit to the University of Bern (Switzerland), the German chancellor was asked about a potential "dangers of the Islamisation of Europe".
Angela Merkel responded saying that although Islamic terrorism is a reality in countries like Syria it is also true that "tragically, this is also a reality that also has to do with us: many of these young people who fight for them grew up in our countries."
"Fear was never a good advisor", she said commenting on some "deffensive" reactions she has seen in her country. "Cultures that are marked by fear will not conquer their future."
MERKEL: UNDERSTANING THE CHRISTIAN ROOTS OF EUROPE
Merkel also used the opportunity to speak about the Christian identity that helped forge the European values.
"I have to be very honest. We all have the opportunity and the freedom to have our religion, to practice it, and to believe in it. I would like to see more people who have the courage to say 'I am a Christian believer'. And more people who have the courage to enter into a dialogue", Merkel said.
In the German context where church attendance has dropped significantly, Merkel suggested people should go back to the "tradition of attending a church service now and then, and having some biblical foundations". Many do not have an understanding of Christian concepts like Pentecost, she added.
The debate about Islam and the identity of Europe, she concluded, "could lead us deal again with our own roots and to know them better."
See video of Merkel's comments here (German)
Published in: Evangelical Focus - cities - 'Courageous Christians with biblical foundations' needed, says Merkel