The most searched Bible verses of 2016
A Bible Gateway research shows the most popular Bible verses, keyword searchs, and other interesting statistics. John 3:16 is, again, the most searched verse of 2016.
Biblegateway · 16 DECEMBER 2016 · 19:10 CET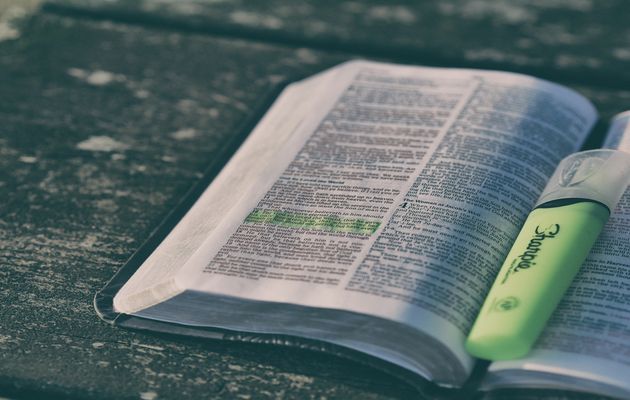 The website Bible Gateway has made a research, based on over 1.7 billion pageviews and over 180 million unique visitors to the page from December 2015 through November 2016. It provides a glimpse at how people engaged with the Bible in 2016.
MOST POPULAR BIBLE VERSES IN 2016
According to this research, the ten most popular Bible verses of this year are:
1. For God so loved the world that he gave his one and only Son, that whoever believes in him shall not perish but have eternal life. John 3:16.
2. For I know the plans I have for you," declares the Lord, "plans to prosper you and not to harm you, plans to give you hope and a future. Jer 29:11.
3. I can do all this through him who gives me strength. Phi 4:13.
4. Even though I walk through the darkest valley, I will fear no evil, for you are with me; your rod and your staff, they comfort me. Ps 23:4.
5. And we know that in all things God works for the good of those who love him, who have been called according to his purpose. Rom 8:28.
6. The Lord is my shepherd, I lack nothing. Ps 23:1.
7. Surely your goodness and love will follow me all the days of my life, and I will dwell in the house of the Lord forever. Ps 23:6.
8. You prepare a table before me in the presence of my enemies. You anoint my head with oil; my cup overflows. Ps 23:5.
9. He refreshes my soul. He guides me along the right paths for his name's sake. Ps 23:3.
10. Do not be anxious about anything, but in every situation, by prayer and petition, with thanksgiving, present your requests to God. Phil 4:6.
SEARCHING BY WORDS
These are the top ten keyword searches:
1. Love
2. Faith
3. Peace
4. Hope
5. Joy
6. Prayer
7. Holy Spirit
8. Grace
9. Healing
10. Forgiveness
POPULAR VERSES BY DAY
Many people follow a reading plan to help them read through the Bible in a year, that is why the study shows a chart with the verses that are unusually popular on a given day.
The chart traces the paths the readers take through Scripture during the year and also shows some of the times of year when Bible reading is most intensive, especially around Easter and Christmas.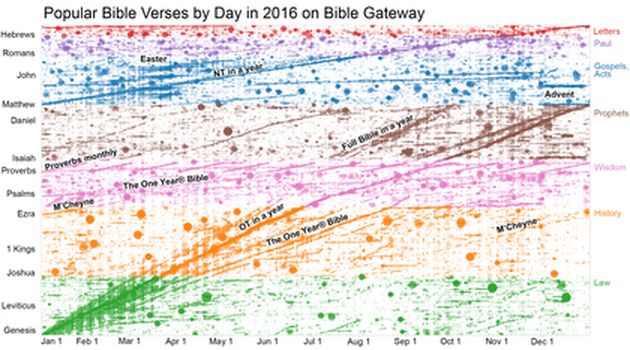 Dates are along the bottom, while verses are on the side: reading Genesis 1 on January 1 appears in the bottom left of the chart, while reading Revelation 22 on December 31 appears in the top right. Each dot indicates that the verse was unusually popular on the given day.
EMOJI SEARCH
the website has introduced emoji search this year. Here are the most-popular emoji readers searched for:
1. Person With Folded Hands.
2. Heavy Black Heart.
3. Person raising both hands in celebration.
4. Smiling face with halo.
5. Face with tears of joy.
6. Sun behind cloud.
7. Smiling face with heart-shaped eyes.
8. Smiling face with smiling eyes.
9. Grinning face.
10. Loudly crying face.
Published in: Evangelical Focus - culture - The most searched Bible verses of 2016