Germany issues Luther Bible stamps
It shows an excerpt of Matthew 27 with annotations made by Martin Luther. It costs 2.60 Euro.
Deutsche Post, Pro Magazin · BERLIN · 17 JANUARY 2017 · 12:33 CET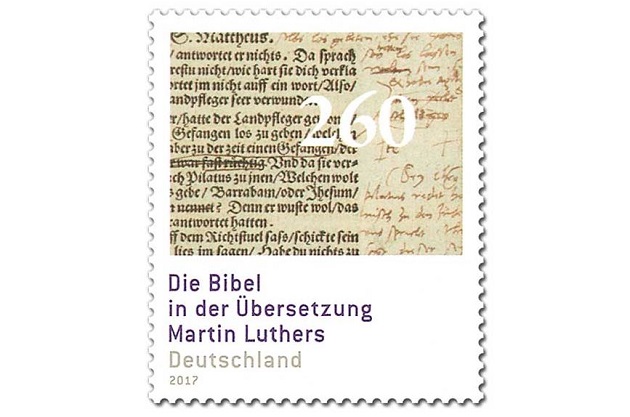 The commemorative Luther Bible post stamp issued in Germany. / Deutsche Post
Germans can now use postage stamps showing a Bible text with annotations of Martin Luther, the Reformer who translated the Bible into their own language.
The new postage stamps are one of the many initiatives in the country to commemorate the 500 anniversary of the start of the Protestant Reformation, in 1517.
A representative of the German government Ministry of Finance introduced the stamp during its presentation on January 10.
The stamp has been called "The Bible according to the translation of Martin Luther".
The image shows a short excerpt of Matthew 27 with hand-written annotations Luther made in a revised translation published in 1541.
It will cost 2.60 Euro and can be used for so-called "maxi-briefs".
The stamp can be purchased in all post offices and online.
A PROTESTANT INITIATIVE
The idea of this commemorative stamp came from the German Protestant state church, the EKD.
In other countries, like Spain, similiar petitions presented by Protestants were not accepted.
Published in: Evangelical Focus - culture - Germany issues Luther Bible stamps