New film about apostle Paul will be released in 2018
Starring Jim Caviezel, the film follows the last days of the apostle, awaiting the execution by Emperor Nero in Rome
Deadline, Variety · HOLLYWOOD · 29 SEPTEMBER 2017 · 09:00 CET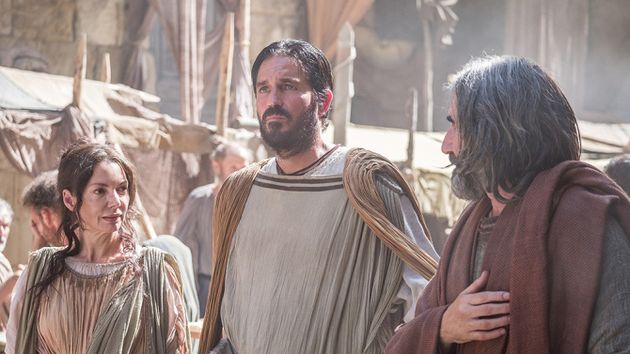 A scene of the film. / Affirm Films
Affirm Films, a Sony Pictures Entertainment company, is producing the film "Paul, Apostle of Christ", directed by Andrew Hyatt ("Full of Grace") from his own screenplay.
Read exclusive interview with director Andrew Hyatt.
Starring Jim Caviezel (who plays Luke), James Faulkner (as Paul), Olivier Martinez, Joanne Whalley and John Lynch, the film continues shooting through the end of September on location in Malta.
LAST DAYS OF PAUL
The story covers Paul, going from the most infamous persecutor of Christians to Jesus Christ's most influential apostle.
The movie will follow his last days awaiting execution by Emperor Nero in Rome, under the watchful eye of Mauritius, Mamertine Prison's ambitious prefect, who seeks to understand how this broken old man can pose such a threat.
Martinez is portraying the prefect. As his days grow shorter, Paul works from prison to further the Gospel of Jesus Christ, and embolden his followers to stand strong in their faith against Roman persecution.
'PAUL PLAYED A CENTRAL ROLE IN THE GROWTH OF EARLY CHURCH'
According to Rich Peluso, Affirm Films executive vice president: "next to Jesus, no one played a more central role in the growth of early church than the Apostle Paul."
"He wrote a vast swath of the New Testament and travelled more than 10,000 miles by foot to preach the Gospel of Jesus Christ", he added.
"Paul changed from murdering Christians to becoming their unlikely leader. His life personifies 'forgiveness', a concept that seems almost impossible today, but desperately needed", said TJ Berden, one of the producers.
The film is slated for a 2018 release.
HUGH JACKMAN WILL ALSO BE PAUL
Hugh Jackman will star in and produce in another movie about the apostle Paul for Warner Bros.
Matt Damon and Ben Affleck will also produce this project which is still in development.
Published in: Evangelical Focus - culture - New film about apostle Paul will be released in 2018