"Music is the most powerful universal language there is"
Michael W. Smith talked to Evangelical Focus during his visit to Barcelona. He thinks "it is pretty unbelievable" that some of his songs are sung in churches all over the world.
BARCELONA · 11 MAY 2015 · 15:52 CET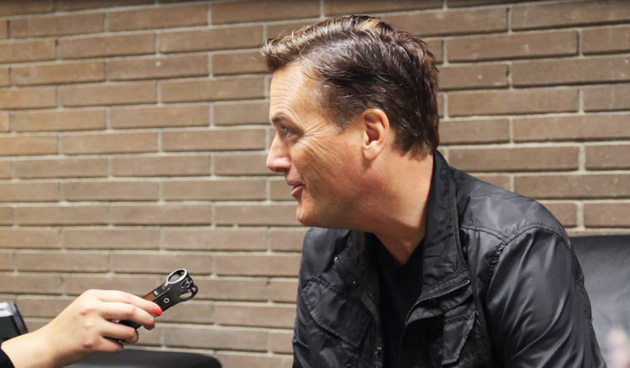 Michael W. Smith, in a moment of the interview. / Evangelical Focus, Gabriela Pérez.
For more than 30 years now, Michael W. Smith has been making music which has been listened to worldwide, and some of his songs are sung in many languages, which is "overwhelming", he admits.
(SEE VIDEO INTERVIEW AT THE BOTTOM OF THE ARTICLE)
Like many other artists, he began writing songs in the early 80s for other artists of the moment. After his first debut in 1983, Smith's music had a big impact on both secular and Christian audiences. He has now published 23 albums, which have led him to win 3 Grammy Awards, 1 American Music Award and 40 Dove awards.
The musician participated alongside Franklin Graham and many churches in Barcelona (Spain) in the 'Barcelona Festival de la Esperanza', which led about 1,700 people to take a decision for Christ.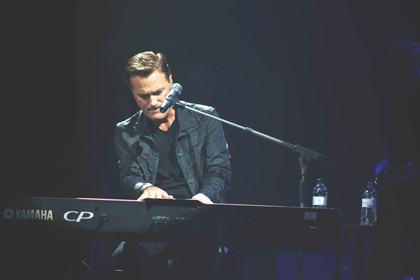 Evangelical Focus interviewed Michael W. Smith hours before his participation.
Question. How is the visit to Barcelona going so far?
Answer. Well, I have only been here for a day, and it is a shame that I'm going to be leaving tomorrow since it's such a great city, I have been here before. I think I had held a show here for about six years ago, so it is great to be back.
Q. After years of travelling and singing in many countries, what differences do you see when you compare the USA to the societies in Europe?
A. I think there's a big difference between Europe and America. I tour America all the time, so it's always a joy to cross and come to places like Budapest and Prague, and Barcelona. I'm a huge fan of travelling overseas. More than anything I feel called to come and sing, and play my music for people all around the world. And this is obviously a very special day for me because I'm here with Franklin Graham.
Q. How did you start following Jesus? Tell us a bit about your testimony…
A. I became a believer when I was ten years old, young age. Just one Sunday, I had a revelation that Jesus really was who he said he was. He is either a lunatic or he is telling the truth. It is one or the other. It was just a big revelation that changed my life, and I've been walking with God ever since. [I had] great parents, one sister, in a place called West Virginia, one of a states in America. And I moved to Nashville to take a step at music.
Q. What do you feel knowing that so many of your songs are being sung in churches all over the world, like here in Spain?
A. It's overwhelming. Especially here, when people sing your songs in their language, which I've a feeling that I'm gonna hear that tonight. Being in Brazil and singing "Agnus Day", and just started singing in Portuguese. It's very emotional for me. I have to hold my emotions back because I want to cry. And you just have a pinch yourself, how did these songs of mine found their way in all these countries all around the world. It's pretty unbelievable.
Q. In the Festival de la Esperanza, there will be much music. What is there so special about music in the process of sharing the gospel with people who don't believe in God yet?
A. I think music is the most powerful universal language there is. And I think it's amazing how one song, which is three and a half minutes long, completely changes somebody's life. And I think that's remarkable. And also, Franklin is going to bring the message tonight, and there is going to be a lot of people's live changed.
But what it is about music, is powerful. I think it's pretty incredible, if you think about it…. There is something about music.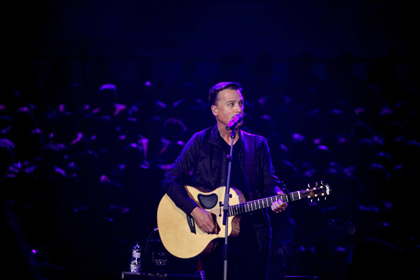 Q. Why do you think Franklin Graham's ministry is being fruitful in God's hand to help reconciliate people to God?
A. I think it's a lot favor in Franklin's life. Just like his daddy, Billy. There are just certain people that have favor. And they also feel called.
And I just feel like God rolls out the 'red carpet'… in figurative speech. But He allows Franklin to go to places he probably never dreamed or imagined. Now I feel the same way about myself, as well.
Q. Finally, What do you think God wants his church to do so that we can see a spiritual revival? In evangelism, what is our role as the Church and what is God's role?
A. That's a big question. First and foremost I think that He wants the church to know that only by His grace we are saved. And I think a lot of people in lots of denominations like the Catholic churches, or in Protestant churches were on 'performance mode.' And we have lots of rules and regulations. We try to earn it, but we can't earn it, we cannot do enough good to earn it.
So I think knowing about the grace of God and really believing in no beyond shadow of doubt that He really, really do loves us. That's the key. That's the most important thing.
And then, we first have to love each other. We are not supposed to gossip, not supposed to fight. Not fighting in church but to love one another. Love God, and love your neighbor as yourself.
So: grace, love, and then I would say finally the last would be pray, because nothing's going to change unless we pray. And I think through prayer, worldwide as a church, I think we will start to see some of the amazing things happening.
VIDEO INTERVIEW WITH MICHAEL W. SMITH:
Published in: Evangelical Focus - culture - "Music is the most powerful universal language there is"