More than 30 members of faith minorities brought to court in Russia
The distribution of literature by three Baptist Christians could be considered a picket.
Forum 18 News · 09 NOVEMBER 2015 · 17:09 CET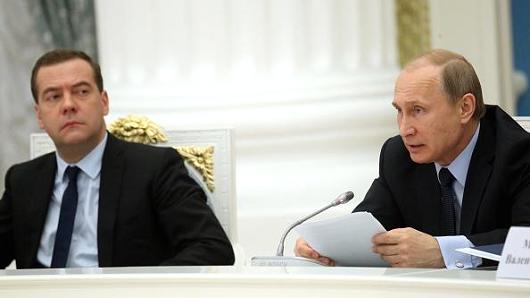 Russian Head of Government Dmitriy Medvedev and president Vladimir Putin. / CNBC
Exercising freedom of religion or belief in public spaces continues to attract hostile attention from Russian law enforcement agencies, often leading to administrative prosecutions and five-figure fines under various parts of Administrative Code Article 20.2.
An information published by the Forum 18 News service fines can be a heavy burden on pensioners and others with a low income.
The Administrative Code Article 20.2 is linked to the 2004 Demonstrations Law and punishes the "violation of the established procedure for organising or conducting a gathering, meeting, demonstration, procession or picket."
The Russian government recently also amended the Religion Law to deny a range of rights to newly-registered religious organisations which are not part of centralised religious organisations.
TWO PRISON TERMS AND 25 INITIAL FINES IN 4 MONTHS
A total of 34 individuals and three religious organisations are known to have been brought to court between the beginning of May and the end of August 2015. These cases resulted in the imposition of 25 fines (before appeals), as well as the detention of two Krishna devotees in Magadan. Ten defendants were initially acquitted.
Twenty-five verdicts have been challenged in higher courts. These included five attempts by the prosecution to appeal against acquittals. Three fines and two acquittals have so far been overturned. Two cases remain unresolved as of 29 October, with re-trials still pending.
With their potential for large fines, the likelihood that police or prosecutors will challenge acquittals, and the possibility that appeals at the regional/republic level will result in re-trials, cases under Article 20.2 place a heavy burden on defendants in terms of time, energy, and money – even if they are ultimately exonerated.
Religious communities which share their in public, beyond the confines of a place of worship, are particularly vulnerable to prosecution under Administrative Code Article 20.2.
From May to August 2015, Forum 18 found 20 prosecutions of Jehovah's Witnesses, six of Hare Krishna devotees, four of Baptists (evangelical Christians), and two of followers of the Chinese movement Falun Gong.
THE CASE OF THE 3 BAPTISTS
The prosecution of three Baptists in Rostov illustrates the lengthy, complicated, and unpredictable proceedings some of those charged under Article 20.2 must undergo.
The three, who had been distributing literature in the street, were all charged with holding an unlawful picket but were acquitted at the city's Proletarian District Court on 8 and 9 June. The police challenged these rulings at Rostov Regional Court on the grounds that the district court had not taken into account the fact that the "picket" had been held near a school.
Here, the defendants, all of whom had been accused of exactly the same offence, faced differing outcomes. The prosecution's appeal against N. Kirillov's acquittal was refused. The cases against L. Leyn and E. Rogachyov (who faced a different appeal court judge) were sent back for re-examination. Upon re-trial on 7 August, both were found guilty. Leyn's subsequent appeal on 8 October was unsuccessful. Rogachyov's case was again returned to Proletarian District Court on 20 October because of a number of procedural violations – no date has yet been set for his second re-trial.
Forum 18 called Proletarian District Court on 29 October to ask why the distribution of literature could be considered a picket, but a spokeswoman refused to answer questions by telephone.
SIMILAR INCIDENTS, DIFFERENT OUTCOME
Many of the 37 prosecutions were based on very similar incidents, which could result in a fine in one place and acquittal in another. Sometimes different defendants in the same case, charged with the same offence, and tried in the same court may receive different sentences if they come before different judges.
Read the article "Are Russian evangelicals fully supporting Putin?"
Published in: Evangelical Focus - europe - More than 30 members of faith minorities brought to court in Russia