Paying for sex will be illegal in France
The legislation outlaws paying for sex, imposes fines for clients, and overturns the existing ban on solicitation. It is the fifth country in Europe to adopt this model. Christians in Europe welcome the decision.
Agencies · PARIS · 11 APRIL 2016 · 17:20 CET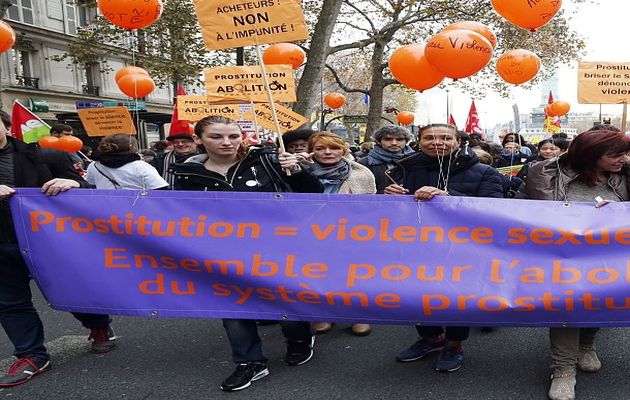 A demonstration against prostitution in France
The French National Assembly has passed a law that makes it illegal to pay for sex and imposes fines of up to €3,750 for those buying sexual acts.
The bill also makes available €4.8 million per year to help those who quit the trade.
There would be a €1,500 fine for a first offence, and, in certain cases, apprehended clients will even be required to attend seminars on the struggles faced by women in the industry, many of whom are victims of international sex trafficking networks.
Meanwhile, prostitutes will no longer be fined or jailed for public soliciting. The legislation will also make it easier for foreign prostitutes to get a temporary residence permit in France if they agree to find jobs outside prostitution.
MORE THAN TWO YEARS TO BE APPROVED
The measure has been quite controversial in France, having bounced back and forth between the legislature's two chambers since 2013.
The law was passed in the final vote on the bill in the lower house of parliament by 64 to 12 with 11 abstentions. It supersedes legislation from 2003 that penalised sex workers for soliciting.
Prostitution itself is not a crime in France, but activities around it are. Laws prohibit pimping, human trafficking and buying sex from a minor. Brothels were outlawed in 1946.
SWEDEN, THE FIRST ONE
The move makes France one of only a handful of European countries to follow the Nordic model of criminalising those who pay for sex rather than the prostitutes.
Sweden was the first one, introducing the law in 1999. Other countries have since adopted the so-called "Nordic model": Norway in 2008, Iceland in 2009, and Northern Ireland in 2015.
Earlier this year, the European parliament approved a resolution calling for the law to be adopted throughout the continent.
"A MAJOR ADVANCE FOR WOMEN RIGHTS"
Manuel Valls, the prime minister, declared the vote a "major advance" for women's rights.
"The goal is to diminish [prostitution], protect prostitutes who want to quit, and change mentalities", Socialist MP Maud Olivier told France's Le Monde newspaper
Laurence Rossignol, President Francois Hollande's minister of families, childhood and women's rights, called it a long-overdue recognition of "the violence of the system of prostitution."
MP Guy Geoffroy, member of the conservative party Les Republicans, affirmed: "we have decided to reinforce as much as we can the fight against the networks trafficking human beings and against procurement."
"And we have also decided to put prostitution customers in front of their responsibilities, because without clients there is no prostitution, without clients there is no human trafficking", he added.
CHRISTIANS SUPPORT THE LAW
Some groups which believe prostitution is not a form of sexual slavery protested against the law in a demonstration during the final debate.
For evangelical Christians across Europe, the nordic model and France's latest decision is the best way to fight sexual slavery. Hundreds of churches and organisations advocate against prostitution and ask the government to protect women. In April 2015, over 200 representing 130 organisations who fight against human trafficking in Europe met in Romania to share information and build 'Bridges to freedom.'
Published in: Evangelical Focus - europe - Paying for sex will be illegal in France