Idomeni: The importance of personal relationships
Christian volunteers from Korce (Albania) serve in the well-known camp in Greece. In weekly teams of 10 people they work with a Children's Corner. "SD memory Cards which contain the Jesus film and Bible in Arabic" are given to some adults.
KORCE (ALBANIA) · 15 APRIL 2016 · 10:16 CET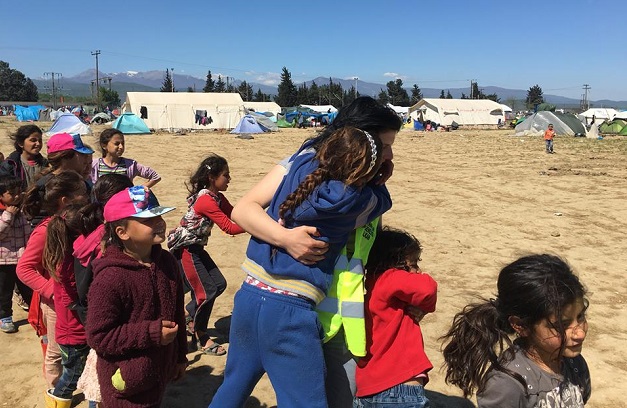 Christian volunteers of OAC Alabania organising games for children at the Idomeni camp. / OAC Albania
Idomeni (Greece-Macedonia border) has been the name identified with refugees in the last weeks. Many organisations are triying to send help, while the conflict with the authorities continues to grow.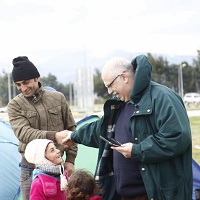 The Kennedy Foundation (social branch of Open Air Campaigners Albania) has been serving the families in the camp since the year 2016 began.
Ian Caralee
leads the team on the ground. He is pastor of the Evangelical Church of Korce, and has lived in southern Albania for 25 years now. They are only 3 hours away from the Greek border.
Before the crisis in the region exploded, Caralee focused on church planting, as he explained to Evangelical Focus. But there always was a vision of a "holistic church which serves the community."
WORKING WITH GREEK CHURCHES
In Idomeni, their "focus has been on the children, their needs, and the mothers", the group explained in a recent newsletter.
They had "been there on and off since January", but the last 6 weeks the situation has gone gone "out of control", Caralee says. Now, "we are spreading out aid from the Evangelical Alliance in Greece", as they have a shortage of volunteers.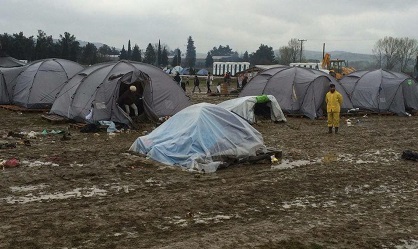 "We are working alongside the Greek churches, so it is done in the name of the Lord, they can see our vests."
JUMP ROPES, WATER BALLOONS, FOOTBALL…
A "Children's corner" was started. "There, we have been working together with other volunteers, using trampolines, jump ropes, buckets and sponges… Our group has been organizing games with ropes and water balloons, and playing football."
Alban TV Korca reported about the worl f these Christian volunteer and interviewed Caralee at the Idomeni camp (Albanian):
Images of children and volunteers appear at the beginning of this BBC report.
CONNECTING ON A PERSONAL LEVEL
After more than 100 believers volunteered to join the Kennedy Foundation in Idomeni, they are now rotating "teams of 10 or more" working on the ground for 1 week.
In the camp, the asylum seekers have divided themselves into groups. "There are many factions, from many countries, just from Syria you have Yazidis, Assadists, Arab Muslims that were Daesh sympathizers, Arab Muslims who were disillusioned, supporters of the Arab Spring, Kurds."
"These 6 factions are a microcosm of the war and bring that with them. And then you have in Idomeni refugees from Algeria, Pakistan, Morocco, and half a dozen other countries", the pastor tells Evangelical Focus. "Tensions are high."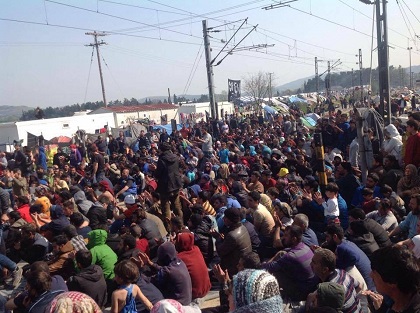 "There is a minority, especially the young people who know some English. "Many have family in Europe they want to join."
OPPORTUNITIES TO SHARE GOOD NEWS
"To this day, we have not met a Christian among the refugees, they are predominantly Muslim, but it seems moderate Muslim as you rarely see anyone praying on a prayer mat."
One of the aims is speak the good news of the gospel to those who are interested. "Klodi, our youth pastor, was speaking to some young men. Now there are two who admitted (after the others left) that they are not happy with Islam and very curious about the Christian faith and what they believed. They spoke for hours!", Caralee explains in an email to Christians.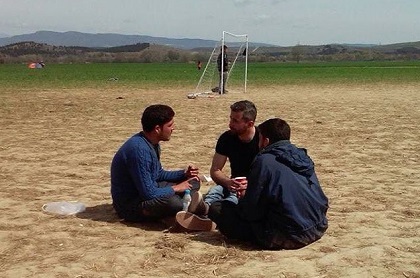 "You must build a friendship, a relationship", he tells Evanelical Focus. "You have to be careful", but it is not difficult. "What has been good for us has been to use the Jesus film app in Arabic, and SD memory cards that you hand out based on personal relationships, they also contain a Bible in Arabic."
"PRAY FOR STRENGTH"
What are their prayer requests? "For strength, health and safety of the travelling teams, wisdom, unity, flexibility and a free flowing of God's love. For moments of encouragement, and any financial help is always welcome."
The OAC campaigners offer the possibility to give to their work in Idomeni following this link, and selecting "Refugees".
Published in: Evangelical Focus - europe - Idomeni: The importance of personal relationships