'Russian government should respect freedom of speech and assembly'
"Russian Evangelicals are not problematic and radicalised citizens and they should not be treated that way", says Thomas Bucher, the General Secretary of the European Evangelical Alliance.
BRUSSELS · 19 JULY 2016 · 11:03 CET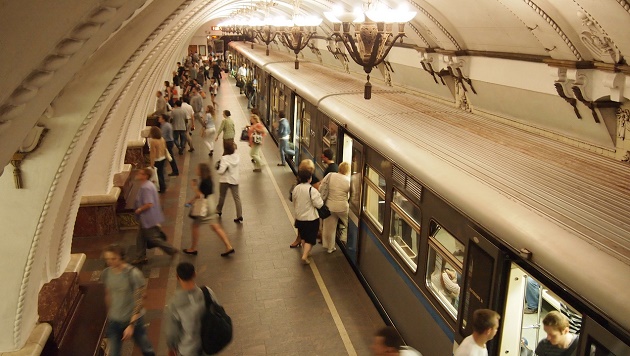 A metro station in Moscow, Russia. / Andes (Flickr, CC)
"The Good News of the Gospel have a positive effect on society and therefore there should be room to share these Good News freely", the European Evangelical Alliance (EEA) believes.
European evangelical Christians are "very concerned about the new Anti-Terror-Legislation coming into force 20 July 2017 in Russia", because "potentially this new legislation can affect Evangelicals in Russia very much should it be strictly applied."
EEA's General Secretary, Thomas Bucher, made clear that "Russian Evangelicals are not problematic and radicalised citizens and they should not be treated that way."
In a document, the EEA reminds the authorities that "Evangelicals are people working for the common good in society. This is also true for Russian Evangelicals!"
A CALL TO MODERATION

The EEA calls:
- "The Russian government to respect freedom of religion, freedom of believes, freedom of speech and freedom of assembly as it considers the need to keep its country safe. Evangelicals to pray for the Russian government to get this balance right."
- "Prayer for the present situation. There is a big need for peacemakers and bridge builders."
WESTERN CHRISTIANS AND RUSSIAN CHRISTIANS
A balanced approach to the situation is needed, the EEA adds. The European evangelical organisation "asks Western organisations to be sensitive towards their brothers and sisters in Russia carefully checking what they really need and not come with culturally biased conclusions."
"Evangelicals should connect with each other across all national borders. A spirit of 'expecting the best' from each other should be fostered."
Meanwhile, "the EEA asks brothers and sisters in Russia to also accept differences in the Western Evangelical setting and not to jump to culturally biased conclusions either."
"BE BOLD IN LIVING OUT THE GOSPEL"
The document closes by calling "Christians all over Europe to pray and work for peace within their society including their governments and be bold in the living out of the Gospel of Hope."
Read prayer points for Russian Christians the EEA published a week ago.
Published in: Evangelical Focus - europe - 'Russian government should respect freedom of speech and assembly'