At least 3,500 refugees get baptised in Germany
Free evangelical denominations and Protestant state churches speak of "increasing interest in the Christian faith among people coming from Islamic countries."
Idea · BERLIN · 12 SEPTEMBER 2016 · 11:09 CET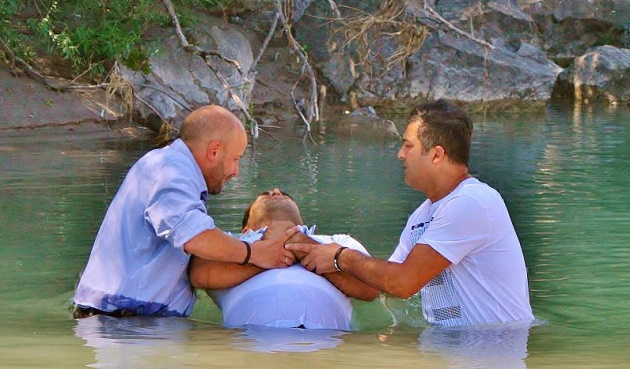 An asylum seeker gets baptised with a Pentecostal church in Weishaus (Germany). / All-in.de
More than 2,500 asylum seekers have been baptised in free evangelical churches in Germany in the last two years. Another 1,000 have joined the Protestant state church.
The data collected by the German news agency Idea speaks of 1,000 asylum seekers being baptised in the Union of Free Pentescostal Churches, and 700 more coming to Christ in the Federation of Free Evangelical Churches (Baptists, Brethen…).
The Free Evangelical Lutheran Churches informed about 850 baptisms of refugees since 2014.
Other free evangelical denominations were not able to offer specific figures.
Nine of the twenty German Protestant churches ('Landeskirchen') also responded to the survey, speaking of at least 1,000 baptised refugees.
"NOT FOR OPPORTUNISTIC REASONS"
Christian leaders in Germany (as well as in other countries) make sure that no one is baptised just to have a better chance to get asylum. "Baptism for mere opportunistic reasons can be discarded in almost all cases", a spokesperson of the Wurttemberg Protestant Church said.
"There is an increasing interest in the Christian faith among people coming from Islamic countries", another pastor added. Most of the newly baptised Christians arrived to Germany from Iran and Afghanistan.
Published in: Evangelical Focus - europe - At least 3,500 refugees get baptised in Germany