Fire destroys refugee camp in Lesbos, evangelical NGO affected
Riots caused a massive fire in the camp of Moria (4,000 refugees), many tents and prefabricated houses were burnt. Members of NGO Remar: "The situation is chaotic. Most refugees will not have a place to sleep in the next days".
Protestante Digital · LESVOS (GREECE) · 20 SEPTEMBER 2016 · 08:22 CET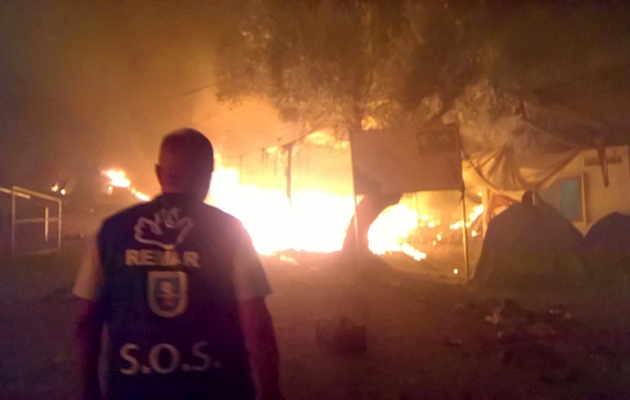 A volunteer near the fire in the Moria camp (Lesvos), on Monday 19th September. / Remar
A protest that had started peacefully ended up causing a tragedy in the Moria refugee camp, in Lesbos (Greece). More than 3,000 were evacuated from the camp after moments of tensions and violence, sources of the Christian NGO Remar told Protestante Digital.
Tents and prefabricated houses had been burned down, firemen were trying to bring the fire under control.
Most minors have been brought to other safe facilities in the island.
MOST REFUGEES LEFT CAMP
What started as a peaceful protest became a violent riot, with violence, members of NGO Remar said. Containers and several other facilities were burned and suddenly a big part of the camp was hit by the flames
"We are slowly receiving more information from the camp", Daniel Díez, director of Remar said. "Our volunteers tell us that most refugees will have to stay outside the camp in the next days because much of it has been burnt".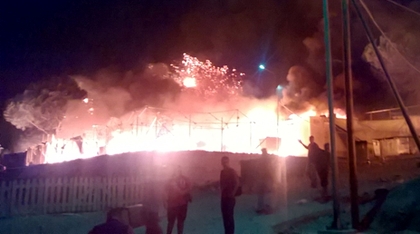 CHRISTIAN VOLUNTEERS: "KITCHEN WAS SAVED"
"We do not know if there have been victims, we have heard many people shouting and we run to find a refuge", Pablo Lustres, team leader of Remar in the Moria camp told Protestante Digital.
"The police left the camp", Lustres explained. "There is nothing left inside the camp, many have no place to stay tonight, the situation is chaotic". The volunteers of the evangelical group are "preparing soup and tea" for refugees around them.
The fire burnt almost all the equipment in the camp, but the kitchen of the NGO and a playroom for children were "miraculously" saved, Lustres said.
The team now asks everyone to "pray" for the following days and their role in the situation.
ABOUT REMAR
Remar is an NGO born in 1982 in Vitoria (Spain) to "assist, promote and help marginalized people". It works in areas like "drug addiction, malnutrition, underdevelopment, illiteracy, child abuse".
Remar can be found in 70 countries, and does its work "through God´s help and the support of thousands of volunteers who devote their lives to serve others".
Published in: Evangelical Focus - europe - Fire destroys refugee camp in Lesbos, evangelical NGO affected