Violence in Ukraine: 13 dead after explosion at bus stop
Updated: Attack killed 13 people. A few hours before, Foreign ministers of Ukraine and Russia had agreed to pull back artillery from front lines. So far, 5,000 have lost their lives in this conflict.
Euronews, OSCE, El País, The Guardian · DONETSK · 23 JANUARY 2015 · 08:45 CET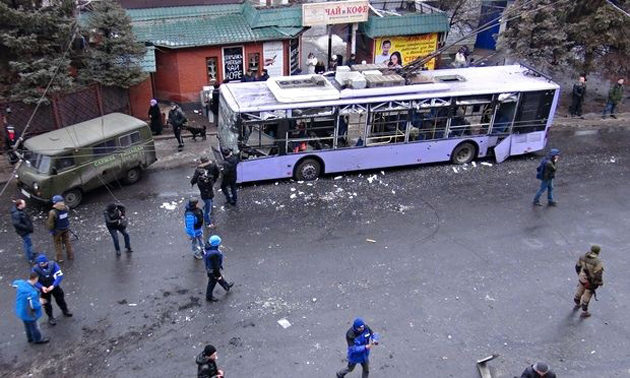 The bus attacked in Donetsk. / The Guardian
Ukrainian citizens keep suffering the effects of the war happening inside the country's frontiers. Foreign ministers of Russia and Ukraine had signed a document in Berlin late on Wednesday night calling for Kiev's forces and Russian-backed rebels to pull back artillery from the front lines: but on the ground, instead of peace, came signs of intensified violence.
As many as 13 people were killed in an explosion at a bus stop in Donetsk, eastern Ukraine on January the 22, in the morning, Euronews informed.
The blast is believed to have been caused by either a shelling or a mortar attack. Local authorities say bus passengers and someone in a nearby car were among the victims.
"We saw the bus was destroyed, the car had exploded. There were lots of dead bodies. There was a wounded man on the bus. He was asking for help", said one man at the scene.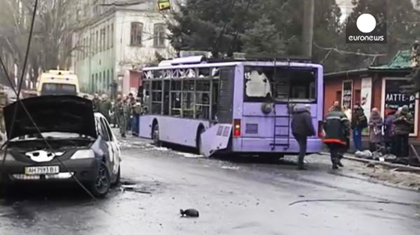 On the same morning a military spokesman announced Ukrainian forces would withdraw from the rebel-controlled new terminal at Donetsk International Airport.
The Ministry of Defence says 6 soldiers were killed in a 24-hour period between January 21 and 22, 2015.
DIFFERING VERSIONS
As has happened many times during the conflict, both sides had drastically differing versions of the attack. The Guardian reports that Rebel gunmen on the scene said the attack had been carried out by a pro-Ukrainian diversionary group, though there was no way of confirming this immediately.
Ukrainian officials said their forces were located too far from the spot to be responsible, with the prime minister, Arseniy Yatsenyuk, calling it "a terrible act against humanity" committed by "Russian terrorists".
The location did indeed appear to be out of mortar range of Ukrainian positions, though it also seemed unlikely that separatists would have any reason to carry out the attack. One local person said the rebels had been repairing tanks in a factory across the street from the blast, which was perhaps the target of the attack.
CRISIS COSTS 5,000 LIVES
Also on thursday the Organization for Security and Co-operation in Europe (OSCE) noted that more than 5,000 people have been killed in the last 9 months of conflict. Violence in eastern Ukraine started in April 2014.
Published in: Evangelical Focus - europe - Violence in Ukraine: 13 dead after explosion at bus stop