Exhibition at the European Parliament depicting LGBT Jesus criticised by parliamentarians
Swedish author Elisabeth Olson thanked those "who worked hard against the EU's strict rules on what can be shown". One picture appears to show Jesus surrounded by disciples wearing sadomasochistic costumes.
BRUSSELS · 04 MAY 2023 · 15:33 CET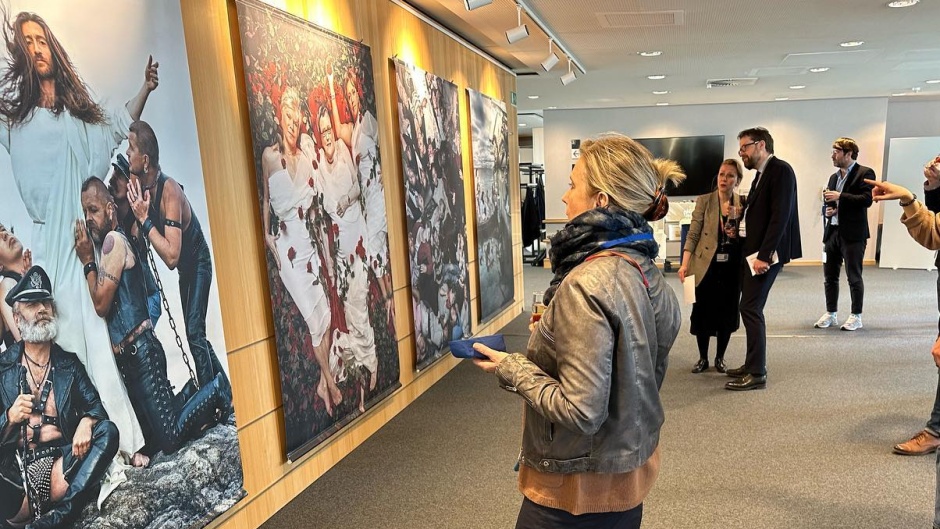 Several Members of the European Parliament in Brussels (Belgium) have expressed their dissatisfaction over an artistic photography exhibition inside the parliament building which, among other things, depicts a Jesus surrounded by 'sadomasochistic disciples'.
The pictures, whose author is Swedish artist Elisabeth Ohlson, can only be visited by parliamentary staff, politicians and others with access to the restricted area of the building.
Ohlson also spoke in an event organised in one of the rooms of the European Parliament a couple of days before the short 4-day exhibition comes to an end on 5 May.
The artist points admitted that the presentation of her artwork in the European Parliament was promoted by parliamentarian Malin Björk, of the Leftist Party of Sweden. She thanked "Malin Björk and all your staff who worked hard against the EU's strict rules on what can be shown".
BJörk said at the inauguration that the exhibition in the European Parliament "shows that our societies have evolved in the past 25 years regarding LGBT rights". According to Italian media Open, a previous effort to bring this exhibition (which was first presented in 1999) to the same building in the early 2000s was refused for being offensive.
Criticism from Parliament members
This week's exhibition caused the criticism of MEPs such as Jorge Buxadé (from the right wing Vox party in Spain), who tweeted: "The European Parliament has become a place of impunity for the LGTBIQ+ lobby with the complicity of left, popular and liberal parties".
Earlier, the MEP Maria Veronica Rossi (Lega Nord, Italy), had protested the "lack of respect towards millions of believers all over Europe".
From inside the building, the photographer responded by saying: "There are millions of paintings of famous artists of Jesus with homosexual people. These are just 12 pictures of Jesus loving the LGBT rights. It should not be so scary".
This is not the only artwork by the Swedish photographer that has stirred controversies over the limits of freedom of expression. In the first Advent Sunday of 2019, the priest of the Lutheran Sankt Pauli kyrka (St. Paul's Church) in Malmö (Sweden) hang on the church's altar a painting of the garden of Eden which replaced Adam and Eve for two homosexual couples and a transgender person. The painting was also authored by Elisabeth Ohlson.
Published in: Evangelical Focus - europe - Exhibition at the European Parliament depicting LGBT Jesus criticised by parliamentarians