An evangelical church in Marseille vandalised
Attackers entered the worship place, smashed windows, destroyed the prayer room, and wrote the message: "The last prophet was Mohamed".
CNEF, Info Chrétienne · PARIS · 03 JULY 2023 · 10:18 CET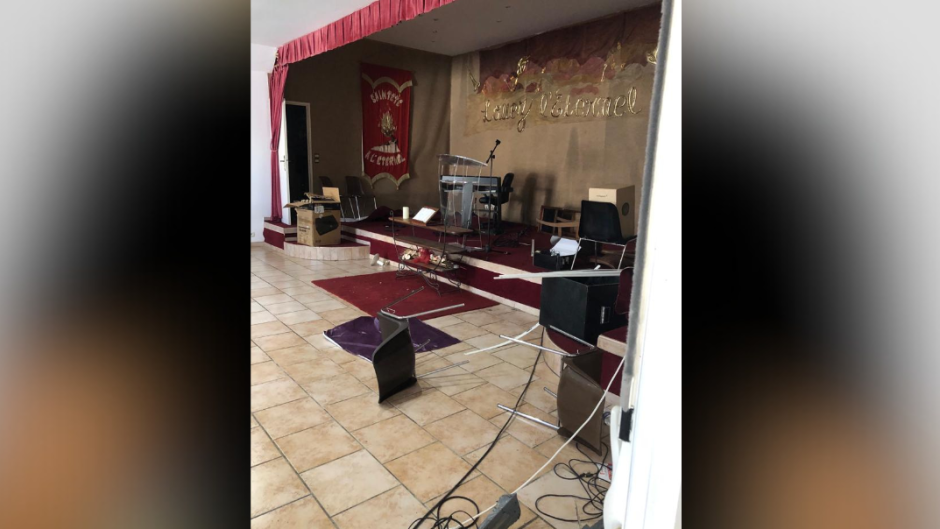 The worship place of the Philadelphia evangelical church in Marseille, after the attack. / Photo: InfoChretienne, CNEF.
On Wednesday 28 June, the Philadelphia evangelical church in the city of Marseille (France) found that its worship place had been ransacked.
As the pastor arrived to their premises, he discovered an entrance had been forced. Inside, doors had been broken and windows smashed. The prayer room of the congregation had also been vandalised.
In what clearly seemed to be an anti-Christian incident, the attackers had left written messages such as, "Jesus is not God" and "The last prophet was Mohamed".
The National Council of Evangelicals in France (CNEF) expressed its solidarity with the church. Its communications director, Romain Choisnet, assured its "support and prayers for the pastor and his wife, who feel devastated by this attack".
L'Église protestante évangélique Philadephie à Marseille a été vandalisée cette semaine. Une plainte a été déposée par le pasteur, par ailleurs membre du CNEF13.

Un acte manifestement anti-chrétien :
"Le dernier prophète c'est Mohamed"
"Jésus n'est point Dieu" pic.twitter.com/8yApy8zE9x

— Romain CHOISNET (@comcnef) June 30, 2023
The situation was reported to the police.
Riots in France
It is not clear if this vandalic act against the evangelical church in Marseille is related to the riots that erupted across France after the death of a 17-year-old in the suburbs of Paris on 27 June, shot by a police officer who tried to arrest him. Despite calls to calm and justice from the authorities, large groups of people have attacked police stations, public buildings, businesses, in many cities of France, including Marseille.
Evangelical Christians have called in a statement they pray for "consolation" for the relatives of the young killed, that "justice may follow its normal course", and for the "forces of law and order who are confronted with the violence be guarded physically and morally".
Read the full statement of the CNEF on the riots in France here.
Published in: Evangelical Focus - europe - An evangelical church in Marseille vandalised