Brexit negotiations begin
The UK starts a two-year countdown to its final departure from the EU. The Evangelical Alliance prays for "wisdom, understanding and kindness."
LONDON · 29 MARCH 2017 · 17:16 CET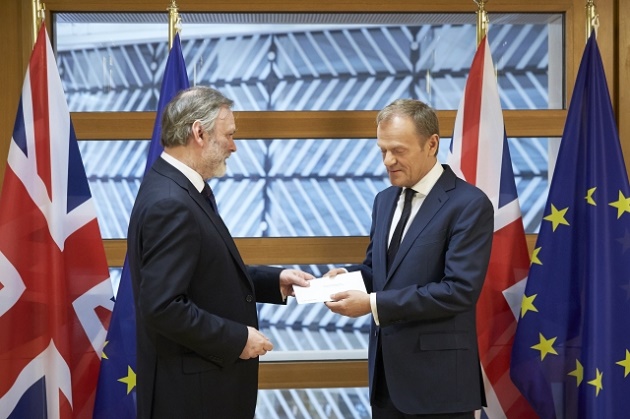 Tim Barrow, Permanent Representative of the United Kingdom to the EU; hands over Article 50 letter to Donald Tusk, President of the European Council. / European Union
"We understand that there will be consequences for the UK of leaving the EU", Prime Minister Theresa May said in the letter that triggered the official process towards Brexit.
The letter announcing the start of the negotiations was delivered to European Council President Donald Tusk.
With this action, the two-year countdown to the country's final departure from the EU starts, following Article 50 of the Lisbon Treaty.
May made clear that "the legislation we propose will not come into effect until we leave." The British PM believes Brexit will lead to "a significant increase in the decision-making power of each devolved administration."
She also insisted that the UK hopes to have a "deep and special partnership" with the European Union.
EU: "DIFFICULT NEGOTIATIONS AHEAD"
In another letter, Tusk responded that this was not a happy day in Brussels or in London. But "something positive about Brexit" is that it "has made us [the remaingin countries] more determined and more united than before."
For the European Council President, the EU member countries will hold together "during the difficult negotiations ahead."
EVANGELICALS: "MAY WE BE PEOPLE OF HOSPITALITY"
The Evangelical Alliance United Kingdom (EAUK) issued a "prayer for our nations", asking God for "our prime minister and those involved in negotiations. Grant them wisdom, understanding and patience. Help them to speak graciously, deal honestly and work diligently."
The EAUK also said in its prayer: "May we always be people of hospitality, compassion and kindness. Welcoming the stranger and loving our neighbours."
Read more news and opinion articles about Brexit published at Evangelical Focus in the last months.
Published in: Evangelical Focus - europe - Brexit negotiations begin