Manchester pop concert terrorist attack: 22 dead and 59 injured
The blast happened in the foyer of a sports arena following a pop music concert attended by many teenagers and children. Politicians suspend the electoral campaign. Anglican leader Justin Welby: "We pray for those in sorrow in the hard journey."
MANCHESTER · 23 MAY 2017 · 15:40 CET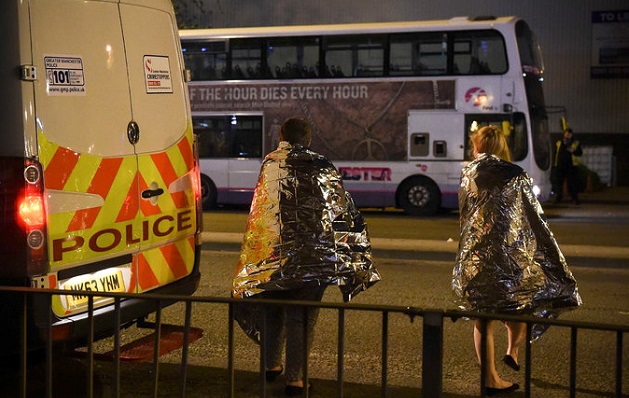 Moments after the attack, in Manchester. / AFP
Twenty-two people, including children, have been killed and 59 injured in a suicide bombing at Manchester Arena, at the end of a concert by US singer Ariana Grande.
A man set off a homemade bomb in the foyer around 22:30p.m. on Monday, in what Theresa May called a "sickening" act.
A MAN ARRESTED
Armed police have arrested a 23-year-old man in Chorlton, south Manchester, in connection with the attack.
Sixty ambulances went to Manchester Arena after the attack and the wounded are being treated at eight hospitals around the city. Among them are 12 children under the age of 16.
ELECTORAL CAMPAIGN SUSPENDED
Theresa May and Amber Rudd, the home secretary, have arrived at Greater Manchester Police's HQ. May said the Manchester attack was an act of 'sickening cowardice.'
In a statement in Downing Street, the Prime Minister said it was "now beyond doubt that the people of Manchester and of this country have fallen victim to a callous terrorist attack" that targeted "defenceless young people".
Politicians suspend the electoral campaign.
WORST ATTACK SINCE 2005
Greater Manchester Police Chief Constable Ian Hopkins said it was "the most horrific incident" the city had ever faced, and the "fast-moving investigation" was now working to establish whether the attacker "was acting alone or as part of a network."
It is the worst terrorist attack in the UK since the 7 July bombings in 2005 in which 52 people were killed by four suicide bombers.
WELBY: "WE PRAY FOR THOSE IN SORROW"
Churches across Manchester and beyond have responded to the attack on Manchester Arena with prayers and the opportunity for people to gather to reflect and light candles in remembrance of those who died.
"We pray for those in sorrow in the hard journey", said The Archbishop of Canterbury Justin Welby.
"Heroic Manchester, dark evil cannot overcome it. We pray for those in sorrow on the hard journey of loss & pain, & for those who protect us", he tweeted.
Churches are opening all across the diocese for special prayers today including other towns of Greater Manchester - Rochdale, Oldham, Bury and Bolton. The community is rallying round with #WeStandTogether trending.
"MANCHESTER IS A SOBERING REMINDER OF HOW PRECIOUS AND FRAGILE LIFE IS"
"We prayed this morning for the situation in Manchester and our thoughts and prayers continue to go out this morning to the people of Manchester – for those who have lost loved ones, for those maimed, injured or deeply traumatised by last night's tragic events and those members of the emergency services, health services and security services as they work to bring healing and prevent further incidents", Peter J. Saunders, a medical doctor from the United Kingdom and Chief Executive of Christian Medical Fellowship, who is participating in the European LeadershipForum in Wisla (Poland), told Evangelical Focus.
The attack "is a sobering reminder of how precious but fragile human life is, and a call for Christians to pray, serve, care and comfort those who have been deeply hurt by this traged", he added.
Published in: Evangelical Focus - europe - Manchester pop concert terrorist attack: 22 dead and 59 injured