King and Queen of Spain received evangelicals at royal palace
Church leaders met King Felipe VI, Queen Letizia and the Justice Minister. "We ask God for His light to shine on your life", the delegation told the Spansish Head of State.
Protestante Digital, Actualidad Evangélica, EFE · MADRID · 28 JULY 2017 · 14:30 CET
King Felipe, Queen Letizia, and Justice Minister Rafael Catalá, with evangelical representatives at the royal reception, on July 27, 2017. / Casa S.M. Rey
A delegation of Spanish evangelical Christians were welcomed at the royal palace La Zarzuela on July 27.
King Felipe VI, Queen Letizia and the Justice Minister Rafael Catalá met 14 Protestant leaders. This reception was organised two weeks after the celebration of the 8th Evangelical Congress, in which 1,000 representatives analysed the spiritual and social situation of Spain. In addition, hundreds of young Christians spent a week together sharing their faith in the streets of Madrid, and more than 8,000 took part in public celebrations.
This is the first time this King and Queen welcome Protestants for an exclusive hearing. Evangelicals had been received in the royal palace once before: in 1997, when Juan Carlos I was king.
A "JESUS" FILM, BOOKS…
During the reception, the delegation gave King Felipe a piece of ceramics art with motifs that related to the beginning of the Protestant Reformation.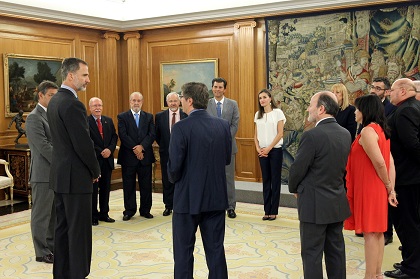 They also handed a document with the conclusions of the Evangelical Congress, as well as several books printed this year on the history of the Reformation, a set of postcards with some of Martin Luther's most famous quotes, and a "Jesus" film DVD.
"MAY GOD'S LIGHT SHINE ON YOU"
"In the last 500 years, only 50 have been shaped by tolerance or religious freedom", said Mariano Blázquez, Executive Secretary of the Federation of Evangelical Entities (FEREDE). "But we want to revert these numbers and build a new scenario in which our small light can join others in helping to illuminate Spain with a greater tolerance and concord, working for a more just and solidary society".
"We ask God for His light to shine on your life", the evangelical representative told King Felipe VI, "and that a blessing from the All Powerful may guide you and protect you, not only in your task as public servant, in representation of the State and all Spaniards, but also in your personal and family life."
The evangelical representatives also invited the royal family to take part in the events organised to commemorate Protestant Reformation on October 31.
Published in: Evangelical Focus - europe - King and Queen of Spain received evangelicals at royal palace