Reformation event in Bulgaria gathers 3,000 Christians
A special choir and orchestra, a documentary and talks about the history of Protestant work in the country.
SOFIA · 02 NOVEMBER 2017 · 10:04 CET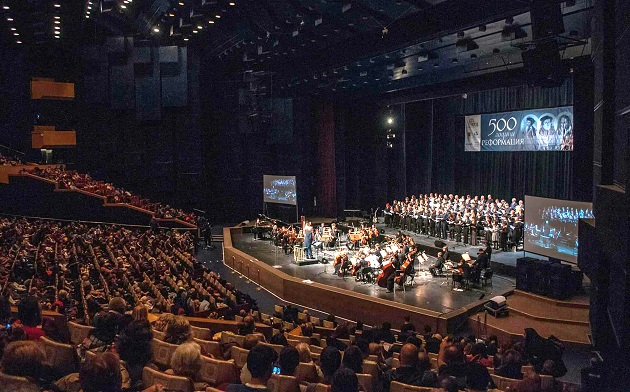 The gathering in Sofia gathered about 3,000 Christians. / Photo: Stephan Milenov
More than 3,000 Bulgarian Christians met on October 29, in order to commemorate five centuries of Reformation.
The main auditorium of the National Palace of Culture in downtown Sofia hosted the special event.
The meeting was opened with a prayer by pastor Rumen Bordjiev, president of Bulgaria's Evangelical Alliance. Official greetings were read by the governmental Directorate of Religious Affairs, and by the president of the National Council of Religious Communities in Bulgaria. The meeting was led by pastor Teodor Oprenov (First Baptist Church, Sofia).
LIVE MUSIC, A DOCUMENTARY AND TWO TALKS
A special 12-minute documentary on the beginning of the Reformation was shown.
The Common Evangelical Choir and Orchestra (consisting of musicians from various denominations), as well as Sofia Gospel Choir presented songs of worship, many of them written by early Reformers. The concert started with "A Mighty Fortress Is Our God."
Dr. Rev. Daniel Topalski shared a talk on the Five Pillars of the Reformation, and Prof. Parush Parushev shared a study entitled "History of Protestant Work in Bulgaria."
The celebration was organized by the Evangelical Alliance of Bulgaria, the main non-denominational Protestant body combining a dozen of the main Evangelical denominations and another dozen of Christian NGOs and missions. Partners in the preparation of the event were the Municipality of Sofia, the National Council of Religious Communities in Bulgaria, the Evangelical media Studio 865, and Ridgways-Bulgaria Foundation.
OTHER EVENTS IN BULGARIA
In Bulgaria, the commemoration of the 500th Anniversary of the Reformation is also accompanied by a series of academic conferences, art exhibitions, concerts of classical and modern music, special events in various cities, media participations of Evangelical leaders, and publication of a special book on the impact of the Reformation in the history of this country.
Published in: Evangelical Focus - europe - Reformation event in Bulgaria gathers 3,000 Christians