More public funding for Spanish Catholic Church despite huge decrease in religious services
Catholic weddings decreased by 50% and baptisms by more than 30% in the last ten years. The public funding of the Roman Catholic Church increased by 3,4%, despite the generalised budget cuts.
Protestante Digital · MADRID · 25 JUNE 2018 · 09:08 CET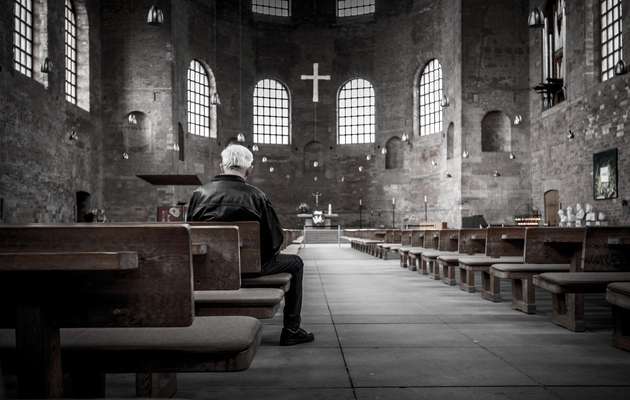 Phot: Stefan Kunze (Unsplash, CC0)
According to the annual activities report of the Catholic Episcopal Conference, the demand for Catholic religious services has suffered a notable setback in Spain over the last decade.
However, the public money used to finance Roman Catholic church through the tax allocation has increased.
DECLINE FIGURES
The setback of the Catholic presence in society is evident in the number of sacraments carried out (baptisms, weddings ...).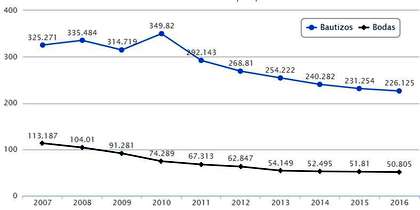 This has been the evolution of the main celebrations of the Roman Catholic Church in the last ten years:
- Baptisms. There has been a decrease of 30.5%. According to the National Institute of Statistics (INE in Spanish), the number of births in the last ten years has also decreased, but considerably less (16.7%). Of every one hundred children born, in 2007, 66 were baptized; in 2016, only 55.
- Weddings. The setbak has been spectacular, being less than half in 2016 than in 2006. Meanwhile, according to the INE, civil weddings of heterosexual spouses have also decreased, but only 15%.
- The decrease in "celebratory activity", as the bishops call it in their documents, went in parallel with that of priests, which fell by 5%.
Paradoxically, the number of parishes distributed throughout the national territory grew by 1.5% during the same period.
MORE PUBLIC MONEY
The public funding that the Episcopal Conference obtains thanks to the tax allocation was not affected by the lower demand of religious services.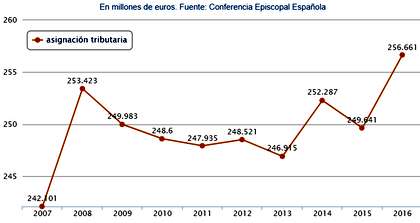 It was 242.1 million euros in 2007, while in 2016 it exceeded 250.6 million, with an improvement of 3.4%, despite the budget cuts that the government imposed in that period to reduce the State deficit.
The tax allocation increased because, among other reasons, the number of taxpayers who chose to give that money to the Catholic Church in their Tax Return also grew (from 6.9 to 7.1 million).
However, they represented in 2016 a smaller percentage of the total (33.5%) than in 2007 (34.4%).
Published in: Evangelical Focus - europe - More public funding for Spanish Catholic Church despite huge decrease in religious services