Shock in Russia after opposition leader Nemtsov is killed
Strong reactions from world leaders asking Russia for an "impartial investigation". Nemtsov was assassinated hours before an anti-Putin rally in Moscow.
BBC, The Guardian · 28 FEBRUARY 2015 · 16:50 CET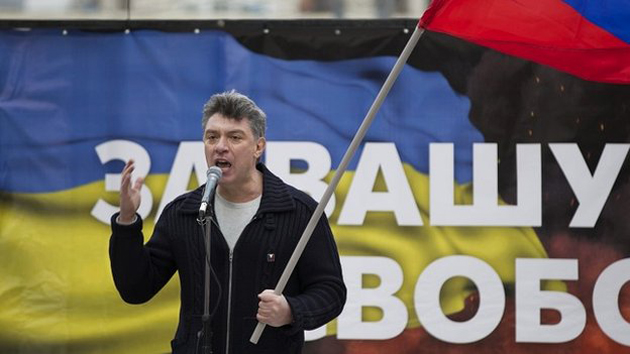 Nemtsov in a rally supporting Ukraine's cause.
Russia woke up in shock on Saturday. The press, social media, politicians - all describe the killing of Boris Nemtsov, one of the leaders of the country's opposition, as something that was - until Friday night - completely unthinkable.
He was gunned down a stone's throw away from the Kremlin, in an area which is always tightly policed, and where security cameras are everywhere you look. He was, it appears, tracked for hours as he travelled around central Moscow.
Nemtsov was shot at around 23:40 (20:40 GMT) on Friday while crossing Bolshoy Moskvoretsky Bridge accompanied by a woman, Russia's interior ministry said.
He was shot with a pistol from a white car which fled the scene, police said.
Russian investigative committee head Vladimir Markin said in a statement that several motives for the killing were being considered including "Islamic extremism" and the victim's alleged links with Ukraine.
Footage from the scene showed police experts examining the corpse of a man, dressed in jeans and lying on the tarmac, with the domes of St Basil's in the background. Fellow opposition politicians confirmed the news, while a police spokeswoman said a manhunt was underway for the killer.
A MEMBER OF YELTSIN'S GOVERNMENT
Nemtsov, 55, was deputy prime minister during the 1990s in the government of Boris Yeltsin.
He had written a number of reports in recent years linking Putin and his inner circle to corruption, and was one of the most well-known politicians among Russia's small and beleaguered opposition.
REACTIONS: UKRAINE, GERMANY, FRANCE, UK, USA…
Many World leaders reacted to the assassination of Nemtsov asking Russia to investigate the crime.
Ukrainian President Petro Poroshenko described Mr Nemtsov as a friend of Ukraine. He said: "Boris had declared he would provide clear evidence of Russian armed forces' participation in [the war] in Ukraine. Somebody was afraid of this."
A statement from the office of German Chancellor Angela Merkel spoke of Mr Nemtsov's "courage" for his frequent criticism of Russian government policy. Mrs Merkel "calls on President Putin to ensure that the murder is cleared up and the perpetrators brought to justice", her spokesman Steffen Seibert said.
UK Prime Minister David Cameron echoed the calls for an inquiry, saying he was "shocked and sickened" by the news.
Barack Obama also asked for a "prompt, impartial and transparent investigation". "I admired Nemtsov's courageous dedication to the struggle against corruption in Russia and appreciated his willingness to share his candid views with me when we met in Moscow in 2009," Obama said in a statement.
PUTIN PROMISES TO "DO EVERYTHING TO PUNSIH PERPETRATORS"
Amnesty International demanded a "prompt, impartial and effective" investigation into what it said was "a cold-blooded murder of one of those free voices whom the authorities have so actively sought to silence".
O Saturday afternoon, the Kremlin published on its website a telegram which Putin sent to Mr Nemtsov's 86-year-old mother, Dina Eydman. He said: "We will do everything to ensure that the perpetrators of this vile and cynical crime and those who stand behind them are properly punished."
And added: "Please accept my deepest condolences in connection with this irreparable loss. I sincerely share your sorrow".
ONE DAY BEFORE DEMONSTRATION AGAINST PUTIN
Just hours before his death, Nemtsov had appeared on Ekho Moskvy radio calling on Muscovites to attend an opposition march planned for Sunday.
The march against Putin's government and the war in Ukraine was due to take place in a suburb of Moscow.
On Saturday opposition leaders said they wanted to cancel the rally and hold a memorial event in the centre instead. Authorities said this would not be permitted.
Opposition figure Leonid Volkov later tweeted that a march had been sanctioned by the Moscow mayor's office. It would go from Kitay-Gorod metro station to the Bolshoy Moskvoretsky Bridge, where the politician was killed.
Published in: Evangelical Focus - europe - Shock in Russia after opposition leader Nemtsov is killed