French evangelicals: "We do not want to be mere spectators of the tensions in our country"
A guide encourages to pray for the 'yellow vest' protests. Some evangelicals have joined the movement: "A large part of the population feels neglected".
PARIS · 11 DECEMBER 2018 · 13:17 CET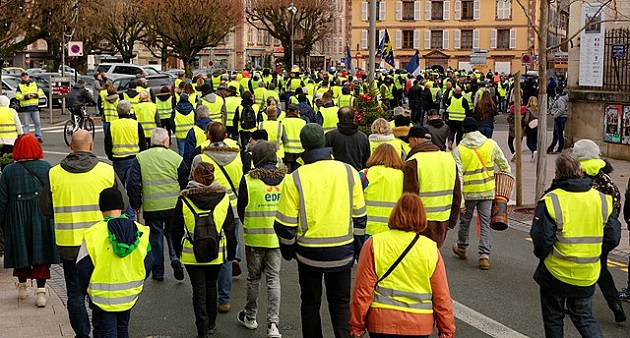 The yellow vest movements have organised protests across France. / Photo: Thomas Bresson (Wikimedia, CC)
Large protests against President Emmanuel Macron were organised across France for the fourth weekend in a row.
The 'yellow vest' movement, which started on Facebook some weeks ago, has paralyzed Paris and other cities with protests that often have turned violent. The demonstrators demand an improvement of the living conditions of people living in certain urban and rural areas where public services have diminished.
One of the evangelical Christians taking part in the protests in Nimes, told French magazine La Croix: "I do not do it for myself, I'm far from rolling on gold, but I want above all to say that I share and understand the suffering of yellow vests".
"A large part of the population feels neglected", the young man added. By joining the 'yellow vests', he hoped to "bring words of appeasement" in the midst of the tense situation.
CNEF CALLS TO DIALOGUE
The National Council of Evangelicals in France (CNEF) called all evangelical churches to pray on Saturday 8, a day when big protests and violent clashes were expected.
"While condemning the physical and verbal violence, we Evangelical Protestant Christians still want to hear the distress of our contemporaries. We are 2,500 local Churches, numerous and varied, sometimes rural, sometimes urban, of social classes and ethnic groups well representative of the French", a statement sent to many church leaders said.
"The word of Christ addressed to the city of Jerusalem: 'If you, even you, had only known on this day what would bring you peace' (Luke 19.42) remains a relevant message for this day of the 'yellow vest' happenings", the guide added.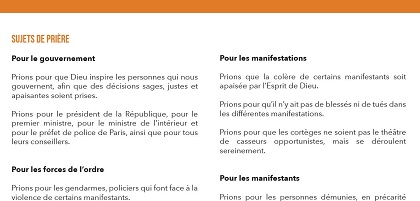 The CNEF acknowledged that "precariousness and injustice give way to anger", but also emphasised "our respect for the authorities". "We hope that a dialogue will take place" soon.
The evangelical body representing more than 70% of evangelical Christians in France, issued a prayer guide, encouraging to pray for the government, the law enforcement, the rallies and the protestors. "We do not want to be mere spectators of the tensions in our country", they said.
MACRON RESPONDS WITH A RISE IN THE MINIMUM WAGE
On Monday December 10, President Emmanuel Macron admitted that the protests were "in many ways legitimate".
He announced a rise in the minimum wage by 7% (100 Euro) and also said that a planned tax increase for low-income pensioners would be cancelled.
Published in: Evangelical Focus - europe - French evangelicals: "We do not want to be mere spectators of the tensions in our country"