EU and Mediterranean countries discussed jihadism and migration
Foreign officials of 29 countries met in Barcelona to address "the heartrending drama of illegal migration." Italy overwhelmed after 5.600 new migrants arrived at their coasts only in last weekend.
Agencies, El País · BARCELONA · 14 APRIL 2015 · 11:48 CET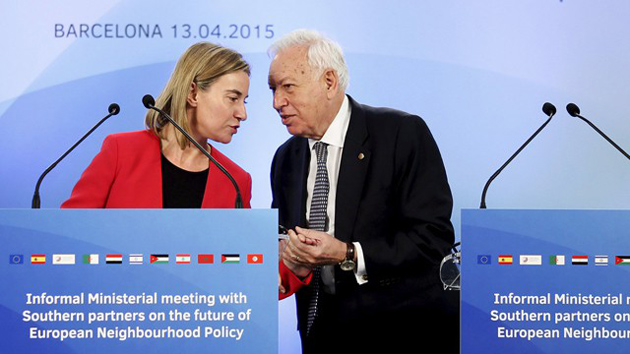 EU representative Mogherini and Spain's Foreign minister Margallo. / El País
Representatives from 22 European Union countries, along with those from Morocco, Algeria, Tunisia, Egypt, Palestine, Israel, Jordan and Lebanon came together for an informal meeting in Barcelona (Spain) "to look together for solutions to the problems that we share."
The summit was the first of this kind since 2008 and was urged by the need to tackle two major crisis which affect the Mediterranean countries: Islamic terrorism and south-north migration, which has become an even bigger crisis in the first months of this year.
This issues pushed the EU to bring its southern neighbors back to the table after a hiatus of seven years to discuss the European Neighborhood Policy (EPN).
"JIHADISM IS MAIN THREAT RIGHT NOW"
Spanish president Mariano Rajoy attended the meeting and described jihadist terrorism as "a direct threat for the security of our countries and our citizens and without doubt is our main threat right now."
He added that the Muslim world was as much a victim of radical Islam as others, and reminded attendees that Catalan authorities had last week broken up a jihadist cell that was planning to kidnap people and slit their throats on Spanish soil (link in Spanish).
The Spanish president encouraged the countries attending the conference to work together: "The Mediterranean unites us, it does not separate us."
Federica Mogherini, High Representative of the Union for Foreign Affairs and Security Policy and Vice-President of the European Commission, stressed the need to "work together" with southern Mediterranean countries and to "make political decisions" rather than get bogged down by bureaucratic procedures. Others asked for more political action and "less office time".
The foreign ministers of Jordan and Egypt, Nasser Judeh and Sameh Shoukry, underscored the importance of addressing Islamist terrorism as a global threat and to combat it as such.
"We need to give our young people opportunities so they will not become easy prey to those ideologies," said Judeh.
ITALY: "SOMETHING IS JUST NOT WORKING"
The Barcelona meeting happened after a very difficult weekend in Italy, in which the coasts of Sicily received as many as 5.600 new migrants with no legal documentation. Nine people lost their lives and 50 children arrived with no parents.
NGOS like Caritas said they would host and feed most people in the first hours, but then they would be re-distributed to specialized centres all over Italy.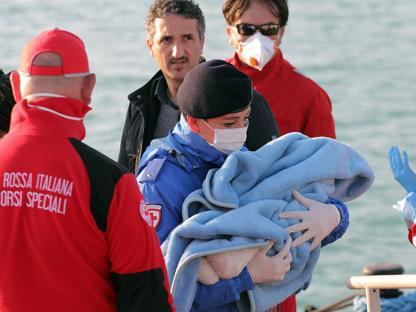 National authorities, led by Italian Prime minister Mateo Renzi, showed once again their frustration: "Europe tells us all about how we should fish the sword fish, but forgets to tell us what to do with children dying in the Mediterranean. Something is just not working."
Experts think 2015 could be one of the worst years regarding mass migration.
Read more about the efforts made by Italian evangelical Christians trying to attend migrants arriving to their coasts.
Published in: Evangelical Focus - europe - EU and Mediterranean countries discussed jihadism and migration