Catholic funeral for Flight 9525 victims "surprised" European evangelicals
Thomas Bucher, secretary general of the European Evangelical Alliance, "expected more respect towards victims who were not from a Catholic background."
BARCELONA · 27 APRIL 2015 · 20:07 CET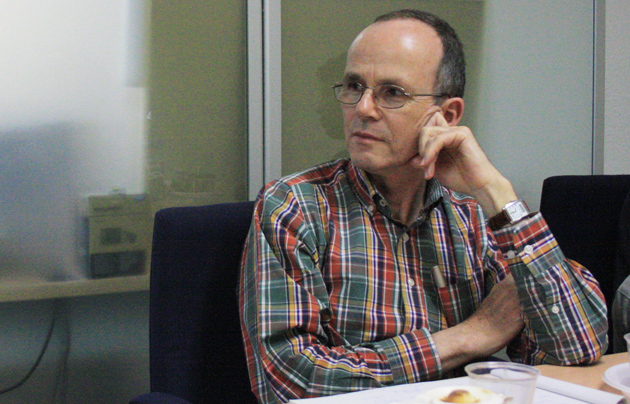 Thomas Bucher, while visiting the office of the Spanish Evangelical Alliance in Barcelona. / J.F.
Thomas Bucher, Secretary General of the European Evangelical Alliance said on Monday he was "surprised" that the Spanish In Memoriam event for the Germanwings victims was a Catholic funeral.
"Seeing how the ceremonies went in France and Germany [pluri-confessional ceremonies], we are surprised that this approach did not happen in Spain", Bucher said while visiting the Spanish Evangelical Alliance in Barcelona on Monday.
"We would have expected more respect towards people who lost their lives in the Germanwings crash, and for the mourning people left behind who were not from a Catholic background. They probably would have deserved a memorial which was more respectful with their worldview", Bucher said.
Several Spanish media outlets confirmed in the days before the memorial that the Catholic Church in Barcelona had refused to hold a pluri-confessional funeral. "I am surprised that the Catalan government, in a secular background, did not take its responsibility and put things right", Bucher concluded.
The state funeral was attended by the Felipe VI, the King of Spain, Spanish Prime Minister, Mariano Rajoy, and the President of the Government of Catalonia, Artur Mas.
Published in: Evangelical Focus - europe - Catholic funeral for Flight 9525 victims "surprised" European evangelicals