Neymar's '100% Jesus' motto was censored in the Ballon d'Or gala
The FIFA erased the Brazilian football player's reference to the Christian faith in a video introducing the finalist.
ZURICH · 15 JANUARY 2016 · 10:31 CET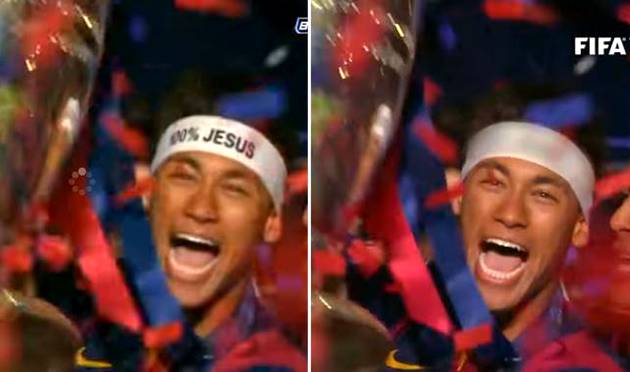 The original video footage (left) and the edited video played in the 2016 Ballon d'Or gala. / Youtube caption
FIFA, the highest institution in the world of football, censored a reference to Jesus by Ballon d'Or candidate Neymar.
Neymar was one of the three finalists of the Ballon d'Or ceremony held in Zürich (Switzerland) on January 11, 2016. Lionel Messi (also a FC Barcelona player) won the award, the fifth of his career.
A video summarising the successful year of the Brazilian FC Barcelona player was played during the gala.
Images of the Champions League final celebration were included in it. The Spanish team won the match against Juventus (1-3) and Neymar celebrated the trophy wearing a headband with an inscription reading "100% Jesus". But in the FIFA video, the reference to Neymar's Christian beliefs disappeared.
FIFA: JUST APPLYING CODE OF ETHICS
The FIFA said the decision to censor the video was to not offend sensibilities.
The FIFA Code of Ethics says people linked to the organisation "may not offend the dignity or integrity of a country, private person or group of people through contemptuous, discriminatory or denigratory words or actions on account of race, skin colour, ethnic, national or social origin, gender, language, religion, political opinion or any other opinion, wealth, birth or any other status, sexual orientation or any other reason."
AN EVANGELICAL BACKGROUND
In the past, Neymar has been outspoken about his faith. His mother is an evangelical Christian, and her attended a Pentecostal church in Brazil when he was a teenager.
But the football star has also been criticised for some of his attitudes outside of the football pitch. His transfer from Santos (Brazil) to FC Barcelona is under investigation. Spanish prosecutors claim there could have been a tax fraud offence.
Many pother professional football players, including Bacca, Kaká and Kovacic, are also known for having showed messages expressing their Christian faith.
Read a Christian perspective on the FIFA corruption scandal here.
Published in: Evangelical Focus - life & tech - Neymar's '100% Jesus' motto was censored in the Ballon d'Or gala