Belgium: First case of euthanasia abuse in 12 years
The Control Commission that supervises the conditions stipulated by the law of 2002 decided to send the case to justice by unanimity
BRUSSELS · 30 OCTOBER 2015 · 16:55 CET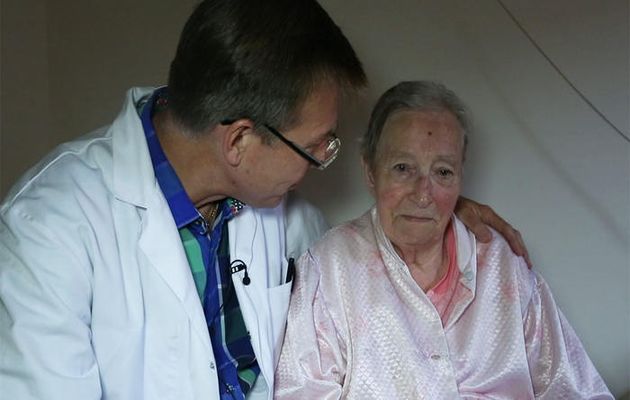 Dr. Van Hoey and his patient shortly before euthanasia in the special report filmed by the Australian TV SBS
For the first time in 12 years, since the Euthanasia law passed in 2002, the Belgian Control Commission on euthanasia has refused to endorse a death and has decided by unanimity to send the case to the courts.
Dr. Marc Van Hoey is accused of having euthanized an 85-year-old lady suffering from a strong depression after the death of her daughter. He could be charged of murder. The event happened in Antwerp on the 22nd of June 2015 in the nursing home where the patient lived. The Commission assures that the conditions that the law provides for Euthanasia have not been respected as there is little proof of the "incurable" and "non-relievable" character of the illness the patient was suffering from.
AN EVENT RECORDED FOR THE TV
The euthanasia process was filmed by an Australian TV SBS that recorded images of the patient doing her daily activities and the impressions and reactions of the doctor before and after euthanasia. The images were broadcasted on the 15th on September under the title "Allow me to die". In front of the camera, Dr. Van Hoey states: "She does not want to die because she is depressive but because she is sick of life."
Belgian media call it historical. Would the Control Commission have done something if the case had not appeared on the Australian TV? The members of the Commission argue they are doing their job and that the case proves the good functioning of the Commission.
DOUBT ON DOCTOR'S "NEUTRALITY"
Mr. Van Hoey is also militant for the right to die in dignity as he is president of an association called "Recht op waardig sterven" (literally: "right to die in dignity"). Belgian media wonder if he let SBS film him in order to lobby for assisted suicide. He refuted that intention to the Belgian newspaper Le Soir: "I have acted in the framework of the law to assist my patient […] my gesture had no militant intention."
EUTHANASIA IN BELGIUM
Euthanasia is legal if the patient is in a state of constant physical or psychological pain. The doctor has to get a second medical opinion on the "incurable" and "serious" character of the suffering and will make sure of the will and repetition of the demand of the patient. In cases of Psychological illness, a psychiatrist also has to be consulted.
Belgium is also one of the first countries to have legalized Euthanasia for children.
Published in: Evangelical Focus - life & tech - Belgium: First case of euthanasia abuse in 12 years