Stephen Curry breaks NBA records, trusts his life to Christ
The Golden State Warriors leader is by far the best player of the league. His shoes have Philippians 4:13 written on the tongue. "I am a servant of God", he said in his MVP acceptance speech last season.
Agencies, Protestante Digital · CALIFORNIA · 01 MARCH 2016 · 17:10 CET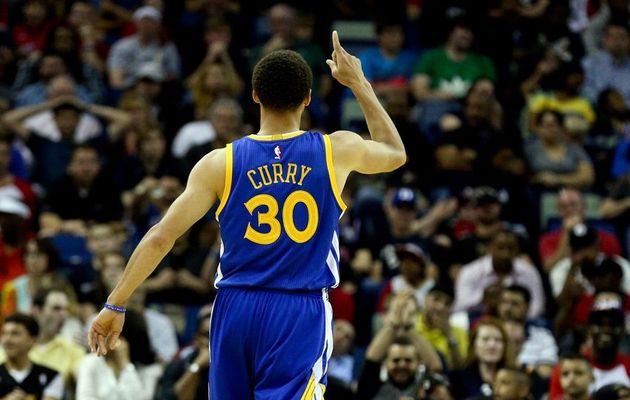 Curry frequently expresses his faith in God. / NBA
Golden State Warriors star Stephen Curry entered the record books twice on Saturday night, breaking the NBA single-season mark for 3-pointers and tying the mark for most 3-pointers in a game, during his team's victory over the Oklahoma City Thunder.
Curry joined Donyell Marshall and Kobe Bryant as the only players to have made 12 three-point shots in a game.
It wasn't the only record he reached on the night, as he has also now made 288 three-pointers on the season, breaking the mark he made last season with 286.
After the game, many NBA players heaped praise on Curry, including LeBron James, saying he has never seen a basketball player like Curry.
@StephenCurry30 needs to stop it man!! He's ridiculous man! Never before seen someone like him in the history of ball!

— LeBron James (@KingJames) 28 de febrer de 2016
"I KNOW I HAVE A PLACE IN HEAVEN"
Curry professes to be a Christian, and he frequently expresses his faith in the court by tapping his chest in the area of his heart and then pointing skyward. The tattoo on his wrist is the bible verse 1 Corinthians 13:8 written in Hebrew.
Last year, he wrote a column for the Fellowship of Christian Athletes website, where he said that he loves to point people toward "the Man who died for our sins on the cross. I know I have a place in Heaven waiting for me because of Him, and that's something no earthly prize or trophy could ever top."
A SHOE WITH A MESSAGE
Curry had a contract with Nike since his first year as a rookie, but chose to finish it and inked an agreement with Under Armour, so that he could blend his faith with his signature shoe.
The first shoe they collaborated on was called the "Curry One", and it featured the numbers 4:13 on the tongue, which represent the scripture Philippians 4:13: "I can do all things through Christ who strengthens me."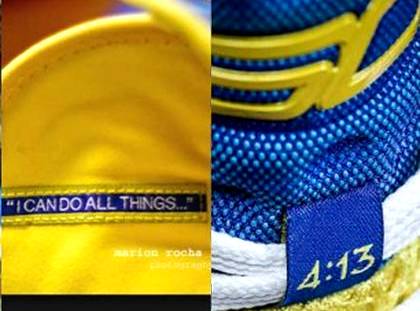 Down the side they are emblazoned with the word "charged." The tag line for all the Stephen Curry shoes is "Charged by belief."
"You don't want to scare people away with this idea that I'm perfect or that you have to be perfect to find that calling", Curry says.
"It means a lot to be able to spread that message, whether that's what you believe or whether it helps you find whatever it is that motivates you to do all things. Every time you put on the shoe, it's a good reminder of what is possible", the player explained in an interview.
"Curry Two" is his newest release, and still carries the "charged" theme. These have the term "Iron sharpens iron" on the tongue, which refers to Proverbs 27:17.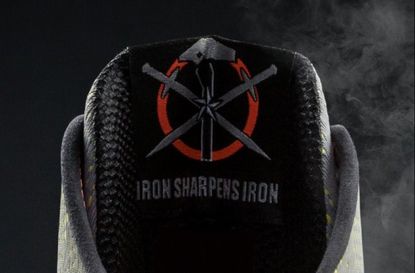 "I AM HIS HUMBLE SERVANT"
The Golden State Warriors point guard was awarded the NBA Most Valuable Player award last season, and his acceptance speech was full of thankfulness to God.
"First and foremost I have to thank my Lord and Saviour Jesus Christ for blessing me with the talents to play this game, with the family to support me, day in, day out", he started saying.
"I am his humble servant right now and I can't say enough how important my faith is to who I am and how I play the game", he added.
He later explained why he pound his chest and point to the sky during the games:
"It symbolises that I have a heart for God, something that my mom and I came up with in college. I do it every time I step on the court as a reminder of who I'm playing for. People should know who I represent and why I am who I am, and that's because of my Lord and Saviour."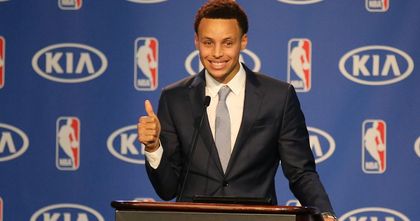 "ALL YOU NEED TO HAVE IS FAITH IN GOD"
"Doesn't matter where you come from, what you have or don't have... All you need to have is faith in God, and undying passion for what you do, what you choose to do in this life, and a relentless drive and the will to do whatever it takes to be successful at whatever you put your mind to", Curry stated.
He finished by saying: "Make sure you live in the moment and work your butt off... I hope I inspire people all around the world to just be themselves, be humble, and be grateful for all the blessings in your life."
Published in: Evangelical Focus - life & tech - Stephen Curry breaks NBA records, trusts his life to Christ