"Love-Europe app": Helping refugees find what they need most
Agape created a mobile app for refugees. It helps them to communicate better and get valuable information to feel welcome in their new surroundings.
love-europe.org · THE NETHERLANDS · 07 APRIL 2016 · 16:17 CET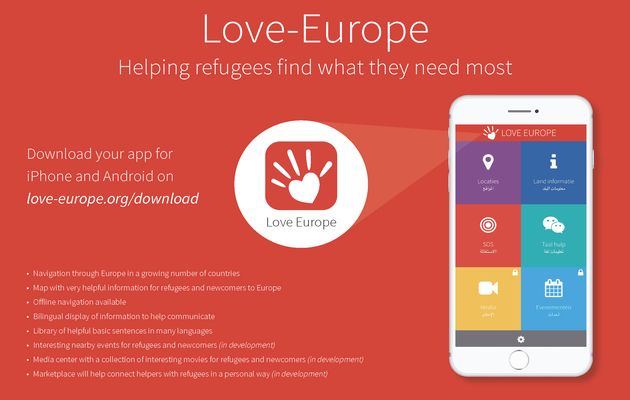 "Love-Europe", an app for refugees, which helps them to communicate better and feel welcome in their new surroundings / love-europe.org
Thousands of refugees are streaming into Europe every day. They have experiences very difficult situations and have risked their lives in search of a hope for their future.
Since the majority of the refugees are coming to Europe with a mobile phone, Agape Europe, in collaboration with partners all over the continent, has created the "Love-Europe app", which helps them navigate and communicate during their travel and stay.
"Our goal is to help refugees and newcomers in Europe find what they need most, both on their journey and when they settle. We want to connect refugees and newcomers with people in Europe who want to show their love and care for refugees", they explained in their webpage.
The app has been launched this week in the Netherlands, and the first phase is available on the Apple App Store and Google Play.
EASY TO USE
"Love-Europe" provides many locations in different countries, starting in the Netherlands. Germany and Greece are following, and other countries are pending.
Even when the user is offline, the app will still work for navigation. All locations are stored on your phone so you can navigate to locations using the compass function if you are disconnected from the Internet.
"The app will also help you communicate during your travel and your stay. The app is multilingual and is always displaying information in two languages, so you can also use it as a communication tool", the creators say.

FIRST PHASE: LANGUAGE AND SERVICES
The development of the app will have three phases.
In its first phase, which is already operative, the app contains "points of interest" in the Netherlands (and already some other countries), and it also gives practical tips during the travel and stay, like information about refugee camps, free Wi-Fi locations, doctors and hospitals, train stations and shops.
Its bilingual display, along with a huge amount of sentences in the languages of the refugees, facilitate the communication between refugees and European citizens.
Additionally, "Love-Europe" has a clearly description of the norms and values of each country in several languages.
SECOND AND THIRD PHASE: MEDIA CENTRE AND EVENTS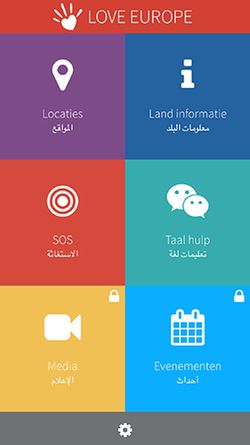 Beside this digital information, there will soon be a
media centre
available and the possibility to promote "events". The media centre will contain information about the country and (Christian) films. The "events" section will give the option to churches to organize meaningful
events for refugees
.
The third phase will give the possibility to make a real connection between newcomers and citizens and organizations who organize activities for refugees.
"WE WANT TO SHOW SOURCE OF LOVE, JESUS"
The creators of this project explained the motivation behind the "Love-Europe" app: "As Christians we want to act and offer hospitality and care for the weak, as Jesus learned us to do."
"Our first goal is that refugees will start to use the app in their daily life. We want them to experience love and we want to show them our source of Love, Jesus", they added.
NETWORKING THROUGHOUT EUROPE
"We are building a network of partners in as many European countries as possible. We want the app "Love-Europe" to help refugees find what they need most", the promoters explained.
In Germany and Greece teams have started to prepare the app for use in their country and language. App creators are also connecting with organizations in France and Sweden.

A network of volunteers will be formed to keep the information in the app up to date.
HOW CAN YOU PARTICIPATE?
First, the creators "greatly appreciate your prayers for us and this project."
"We know that God is the great Leader of this project. And we are excited what He is doing in the next steps we have to take", they say.
They are also "searching for more partners to use the app in their language", and "are thankful for the first phase and the early donations, but for the next phase we still need more resources, so donations are very welcome to develop the next phase of the app."
You can download the Love-Europe app at Apple App Store and Google Play.
Published in: Evangelical Focus - life & tech - "Love-Europe app": Helping refugees find what they need most